A colourful week
13 Oct 2023
The children have had lots of fun exploring colours this week based on our story of Blue Balloon. In the story the balloon has strange and magical powers and it ends up as a rainbow balloon at the end of the story.
So we thought it would be a lovely idea for the children to create their own rainbows. As you can see from the photos, there was lots of very careful listening and using the brush to make arches of colours and I am sure you agree the rainbows look fantastic on our windows, especially when the sun shines through!
In the garden, the children had lots of fun pumping up balloons using the balloon pump which takes a lot of physical effort. And, of course, we all had a great time playing with the balloons in the garden.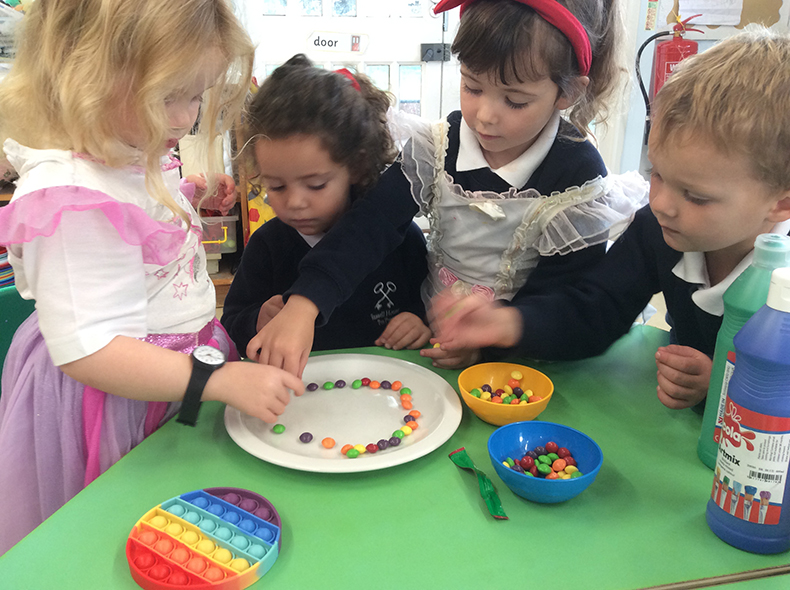 In other activities the children mixed and combined different colours of food colour to create new colours in the pots using pipettes to squeeze the water. We had a fabulous time during our science activity by placing Skittles around the plates and pouring water on to watch the colours make beautiful rainbows. The Skittles had to be tasted too!
With all the balloons bouncing around, we decided to paint with those too so we used different shades of blue paint to make balloon prints onto paper, which was quite tricky as it made the balloons very slippery!