News from the Main School
24 Apr 2020
Discover what's been happening this week across the Main School.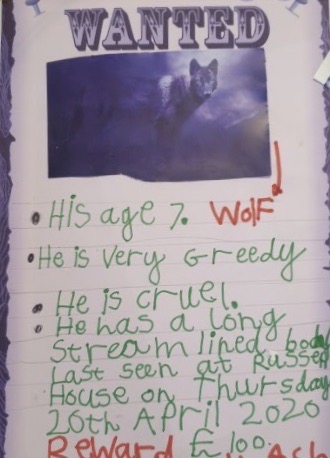 In Form 2 the children designed a WANTED poster for the missing BIG BAD WOLF. The wolf was last seen in Otford at Russell House. Luckily Mr McCarthy found it by the chicken shed and sent him back to the zoo. The posters will be put up around the area in case the wolf escapes again!
The children have been dancing - with some parents joining in - to see how they can move their joints. They pretended to glue their joints together and then danced, which was a lot of fun.
Mrs Varley has been so impressed with how hard everyone has been working and has been so happy to receive all the videos, photos and lovely work. Thank you Form 2.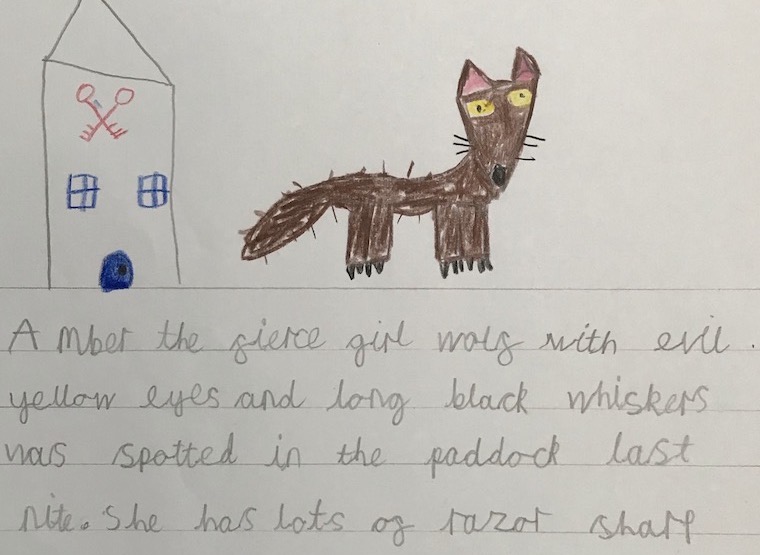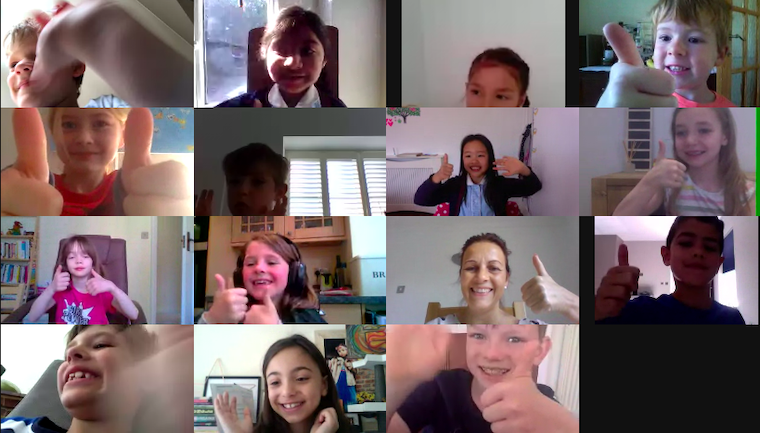 The chi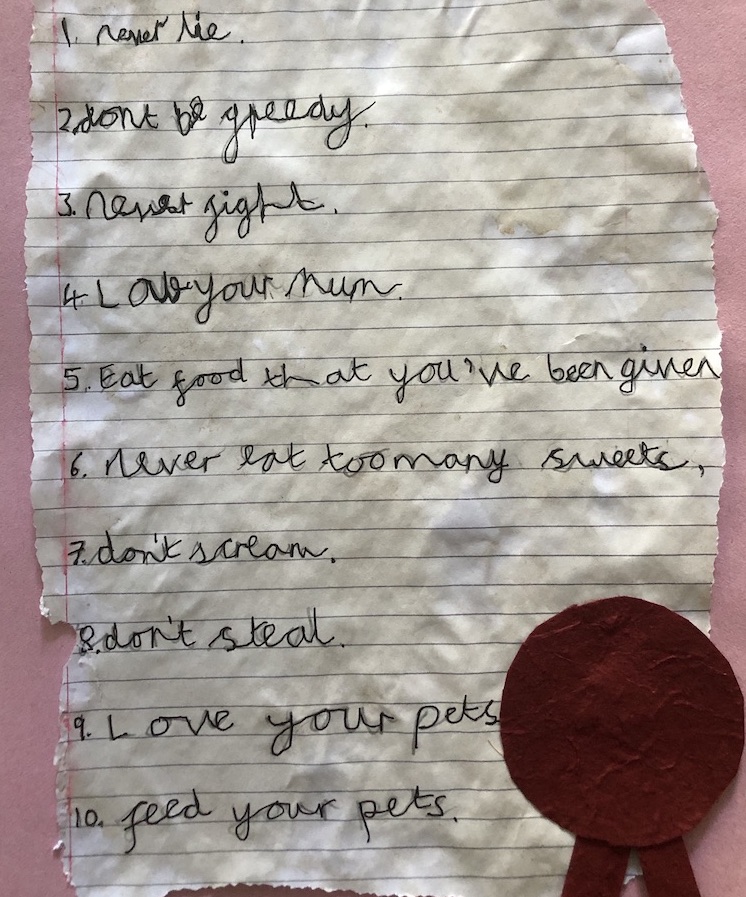 ldren in Form 3 were very excited to return after the Easter break and to experience lessons with RHOnline! There was lots of smiling, laughter and enthusiasm from them all during their quick tutorial of Google Meet.
In English, they have been learning about synonyms and antonyms and produced some amazing posters. In Maths, we recapped times tables and place values.
We started learning about Judaism and the 10 Commandments in our Humanities lessons. The children made their own stone tablets by staining a piece of card with a tea bag and writing their own rules.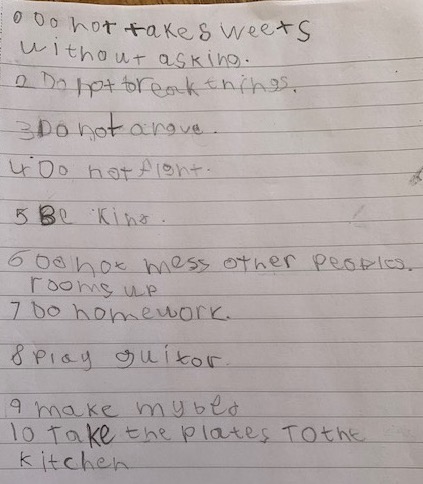 Form 4 have been fantastic this week. They very quickly worked out how to use Google Meet and we've enjoyed finding out what everyone has been up to over the Easter break.
The children have written play scripts based on Little Red Riding Hood in English - often with some wonderful twists in the story - and have been learning about area and perimeter in Maths. They have also begun work on their own presentations about a Hindu temple of their choice in Humanities. In Science, they learned about the parts of plants.
In Form 5 the children have returned to our virtual classroom full of energy and determination. In English we have been analysing sea-themed poetry and read The Ocean's Blanket by Carol Ann Duffy.
New topics for the term have begun, with the Tudors in Humanities and forces in Science. In French the focus has been on the pronunciation of words for various foods.
Finally, in Form Time we have been catching Mr Plant out when playing two truths and a lie to get to know each other better. Mr Plant has been trying to successfully separate our true statements from the lies!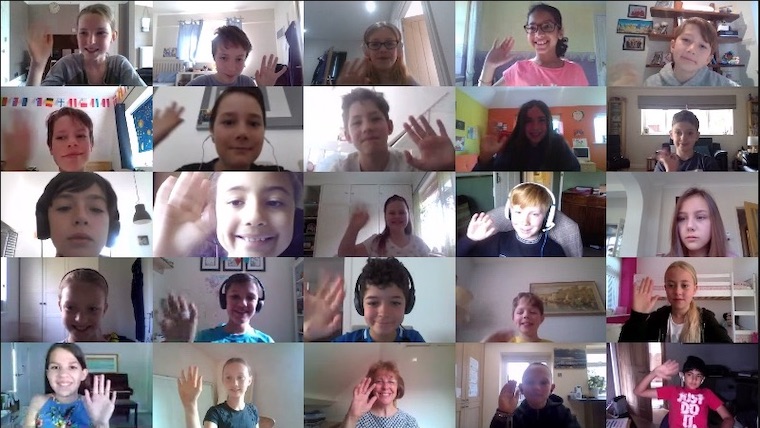 A huge welcome back to all of Form 6 and an extra special welcome to our new pupil who joins us all the way from Spain! All the children have jumped straight into their online learning this week and here are some of their highlights:
Seeing all of their friends every day
Having video teaching for every lesson
Meeting Mr Plant ("He's a really nice person!")
Having Form Time every day and sharing what they've been up to
The children have really enjoyed their first Humanities lessons with Mr Plant, in which they have been learning about the origins of Buddhism, understanding the story of Buddhism and tracking it back to Nepal. Welcome, Mr Plant!
It's been a hugely successful first week back and we look forward to continuing RHOnline! next week.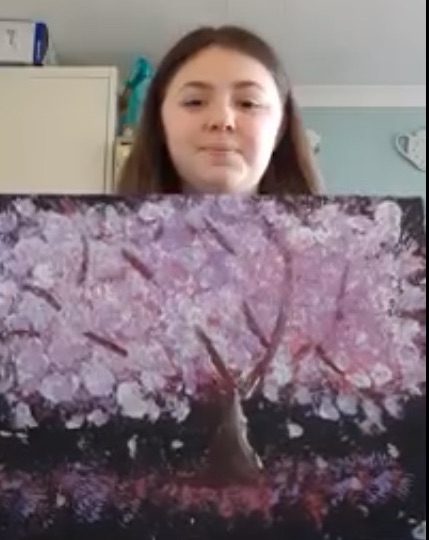 Welcome back, Form 7!
Without trying to state the obvious, things are a little different this term, but we have been loving the doors of opportunity which have opened for us!
The class have loved their online lessons, dealing brilliantly with the new platforms for learning and also with the inevitable glitches that occur. In Maths, they have been investigating fruit, looking at the diameter of an orange and the area of its peel, as well as the mass of watermelons - mouthwatering stuff.
In Humanities, they have welcomed Mr Plant and enjoyed their new topic of the Ancient Greeks. Science has focused on environmental issues, such as global warming.
English lessons in their first week have required some grit and determination in finding ways to record and share their Public Speaking competition entries. All are now in and we have loved watching them. Stay tuned for the results next week!
Huge congratulations to Abbie for achieving Grade 2 singing with merit, Teddy for his Grade 3 guitar with merit and Sam for his Grade 2 guitar with merit. Great achievements to be celebrated.
My favourite times this week have been Form Times - both in the morning and afternoon - where the children have shared their holidays' achievements with the rest of the class. These included a light-up carnival badger, beautiful artwork and bedroom painting. We have also had pupil-led tutorials on how to create paracord bracelets and a quiz.
To echo Mr McCarthy's thoughts in his most recent YouTube assembly, this should be about physical distancing but social connection. Form 7 have certainly done that this week.