Look what I found!
01 Oct 2020
Form 1 have been out and about spotting shapes.
Our work on shapes has been reinforced this week by the children taking a Shape Walk which involved walking around the school with a checklist on a clipboard (the best bit of all I suspect) and ticking off shapes that they see in the environment.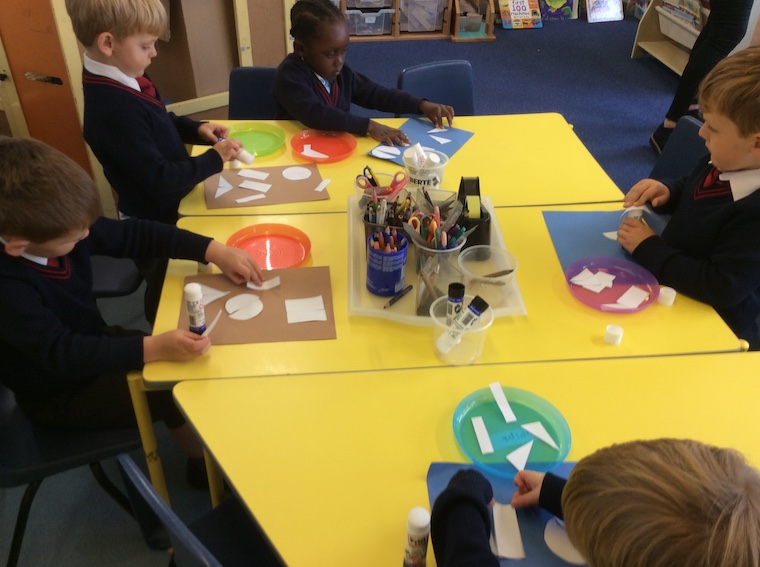 The children found this very exciting and were dashing around discovering shapes all around of all different sizes. They particularly liked the shapes on the house next door which we decided looks just like a face.
Later in the week, the children found themself puzzling on how to correctly reassemble some shapes that had been cut in half. This activity really helps them understand the properties of shapes and how shapes appear to change when they are rotated and flipped over. They soon discovered that what they thought was a 'diamond' was in fact a square!
Squares in many different colours and textures were used by the children to fill in their initials which had them not only thinking about surnames and initial sounds but also capital letters. The results are stunning and will be up on display soon.
During a quick five minutes I took the opportunity to encourage the children to match up numbers of our playing cards and also match suits. So much learning happens when playing and the children will often choose, as you can see from our photographs, to investigate and play with our maths resources which they can access for themselves.
Finally, I have to add another photo from last week when they came dressed in such wonderful costumes for our celebration of different languages. They (and staff) had a fun time and we all thought they looked brilliant!