Robins find a nest!
08 Oct 2020
On a walk in the grounds, the Robins found a camp - guess what they called it?

As part of our topic, we made hedgehogs from pine cones and even a comfy home for our little friends using card and shredded paper.
We followed the topic too when our Robins became master bakers making delicious hedgehog rolls. The Robins watched as I made the dough and we spoke about the ingredients, using positional language. Once the dough had risen, we had lots of fun kneading our dough individually.
Our Robins used forks to make spikes on their hedgehogs and carefully placed two raisins on the dough for the eyes. We had enough to share with Mr McCarthy, Mrs Irvine and Mrs Burness who all thoroughly enjoyed their treat and said they were super yummy with butter.
To promote and extend the children's language, we spoke about our lovely autumn poster during our 'talk for learning' activity. It was wonderful listening to the children's ideas which extended their understanding of autumn. There was a cheeky hedgehog on our poster and one Robin made a connection to our hedgehog rolls - which was fantastic!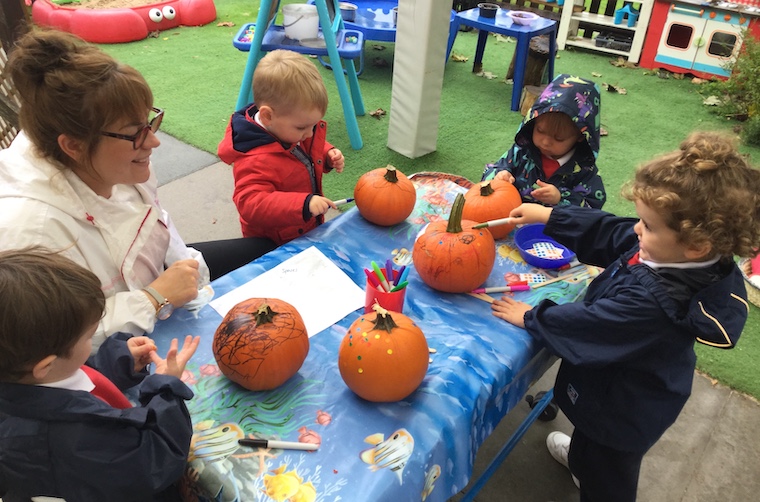 We had a special pumpkin delivery so we used stickers and permanent markers to decorate them. One of the children's pumpkins was called Mr Spooky. The children are excited to carve a pumpkin next week as part of our Halloween topic.
Our Robins are such fantastic explorers in the mud kitchen so we decided to extend this by investigating magnets. The children persevered while discovering which resources would stick to the magnets. Some of our Robins have shown an interest in numbers, so it was lovely to see the children matching buttons to numbers. The children have also enjoyed spotting numbers in their environment.
We ended the week with a walk exploring the school grounds. It was great fun, as we walked through the woods. The Robins were thrilled when they found a camp, so we all decided to name it The Robins Nest.