A fruity week
05 Nov 2020
Activities in Nursery this week have centred on the book Handa's Surprise.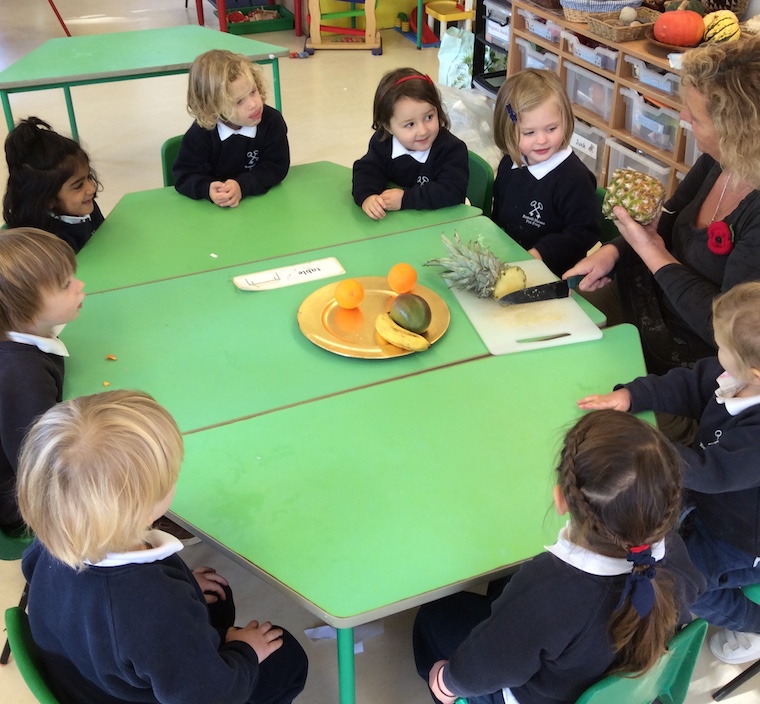 Welcome to a busy second half of term with lots of exciting activities planned, including our Christmas nativity The Sleepy Shepherd.
This week the children have been learning about the fruit and animals in our story Handa's Surprise. They have been amazing at remembering which animal took which fruit from the basket, as well as tasting some of the fruit and even squeezing their own oranges to make orange juice at the juicing station!
The children made their own healthy shopping lists by cutting pictures of fruit. They also made some lovely pictures by printing with oranges and lemons. Sticks, gems and playdough were used to make houses for the animals and the story was retold using the animals and the fruit. The children enjoyed peeling the tangerines and counting how many segments they had - and then tasting them too!
We have been enjoying the beautiful autumn sunshine playing in the crispy leaves and sweeping them into big piles. The leaves have also been used for candles on 'birthday cakes' in the outdoor sandpit!