Time to remember
12 Nov 2020
Form 1 have been learning how the poppy symbol helps us remember.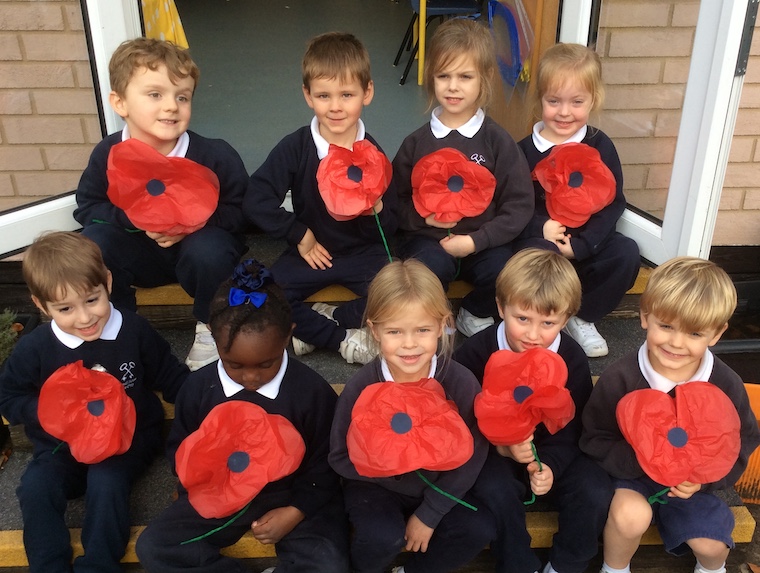 The word of the week in Form 1 has been 'remember' and with Remembrance Day this week it has proved very pertinent.
We joined in with the whole of the Pre-Prep on the front court to stay silent for a minute (which even the little Robins managed) to think about the bravery of all the thousands of people who stood forward and defended us.
The children understood that having a symbol such as a poppy helps people to remember. They loved making their beautiful poppies and were very proud of the end result.
The clipboards were out again this week so the children could have a Word Hunt. They were given a set of sight words on a sheet and had to find the hidden words around the classroom as well outside. The enthusiasm to complete their sheet led them zooming around until all fifteen had been found. Each word was read to a teacher and then coloured in.
Another activity which helps children recognise the shapes of letters - and particularly sight words - is jigsaws. I am delighted that the children love their jigsaws which is a brilliant activity to increase such visual skills.
Every week is crammed full of fun activities to help their learning. One such activity this week was listening to questions about adding and subtracting and then finding the right number on our interactive whiteboard - which prompts a helicopter to take off!
The children also enjoyed themselves so much with a board game that helped them recognise the 'take away' symbol as well as the process of subtraction. I promised they could take it home to play with you!
I think by now you have all realised that Christmas has arrived in Form 1 as the children learn their songs and lines for our Christmas play that will be recorded for you to watch at home.
It has been wonderful to see their excitement as they tried on their costumes and it has made us all feel very festive and very lucky to share these special moments with the children.