Let's see those smiles!
15 Jan 2021
Transition have been spreading some much-needed January cheer!

It was Transition's turn to host our weekly Pre-Prep Assembly this week, so what could have been better than to spread some January cheer with lots of smiles?
January can often seem a long month, with grey skies, damp days and low spirits - after all, we have played with all our new toys, and eaten all the chocolate! Therefore, we thought it would be helpful to pass on our top tips to everyone for keeping ourselves healthy and happy at this time of year.
We talked about how we need to get plenty of sleep, eat foods that are the bright colours of the rainbow - as they contain lots of vitamins - and take plenty of exercise. We can keep our eyes open to see all the wonders of nature (we looked at berries on holly, cherries on branches, flowers, pine cones, vibrant red-stemmed twigs and a pot of daffodil bulbs, with green shoots poking through the soil to inspire us. When outside, listen to birdsong, which is always particularly noticeable at this time of year. All great ideas for staying healthy and happy!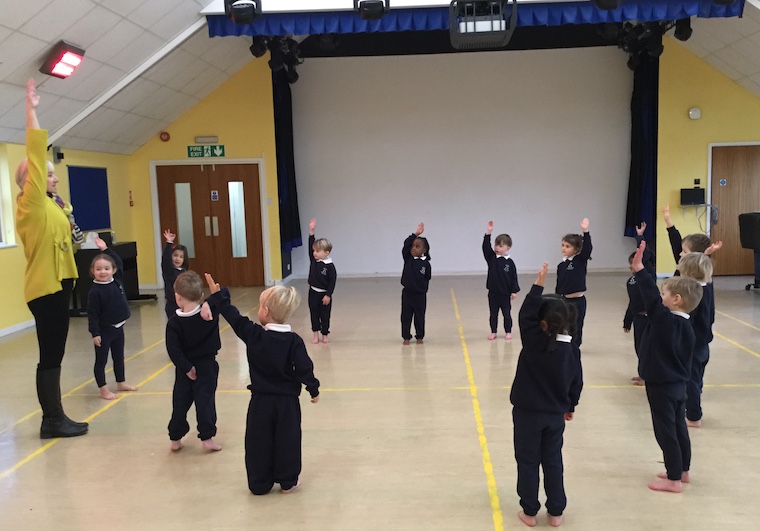 The children showed everyone the smiley faces they had created, complete with wording on the back of something that makes them happy. We had ideas such as going to the seaside, playing with their friends in Transition, my family, playing with Mummy and even eating biscuits! We also taught everyone our Happy, happy, happy in the morning rhyme too, which brought lots more smiles.
Our first PE lesson of the Spring Term brought even more smiles. The children responded to instructions to move their bodies in a variety of ways, from stretching up high, to crouching down low and just about everything in between! It was so amazing to watch some children gain new skills before our very eyes. Mrs Nelson and I enjoyed catching the Transition train as it moved carefully around the room, with only a few minor derailments! Our pirate game also resulted in lots of laughter, so do ask the children to explain all the instructions to you, in case you would like to have a go at home!
Self-portraits are continuing, with hair now being added and the children have also enjoyed a transient art activity, completing 'faces' with different features and then modifying their designs. We have had lots of discussion about our pets, who are also very important to us and we especially enjoyed the story of Mog, the Very Forgetful Cat.
Our focus letter sound this week is 'u', and we have certainly needed to shelter under our umbrellas on some days! Other ideas during our class brainstorming included up, udder, upside down, umpire, understand and Mr Uppity.
Finger Gym has seen the children using the hammers and pins in Tap-a-shape activities to create houses, and using the magnetic wands and balls.
What with the whole class enjoying handling our new, orange coloured and scented playdough and some having their first go on our classroom computer, it has once again been a very busy and productive week!