A colourful week
04 Feb 2021
Guess which book the Nursery children have been reading this week!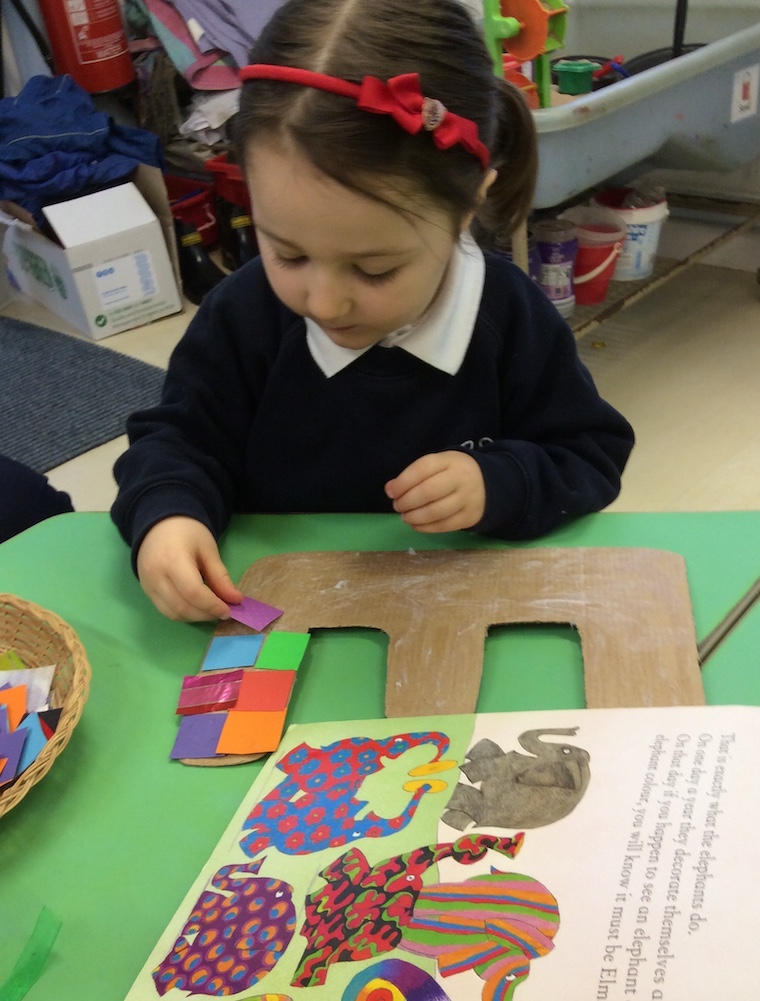 All things bright and colourful have been happening in Nursery this week as the children listened to the story of Elmer the Elephant.
They made patchwork designs on the initials of their name taking great care to put the squares together to make a patchwork pattern. They explored colours using paint for marble rolling, printing with squares, and with marbling inks to create new colours and patterns just like Elmer!
The children threaded their own Elmer by carefully pushing the laces through the holes to create a pattern around the elephant.
When the children played the memory game with the wild animals, there was lots of thinking and remembering which animal had gone from the tray. They all had great fun having a turn and getting their friends to have a guess too! The wild animals have been enjoying the mud outside where the children made bridges and homes for them.
The children have even been sorting the washing this week when they matched the colours and patterns of the nursery socks! Due to the inclement weather, they had to be dried in the classroom pegged onto the washing line by the children - maybe they could help with the washing this weekend!
During music, the children were treated to some music from Vivaldi and even had a go on the violin, producing some lovely sounds!
Finally, on Tuesday we were videoed for the Pre-Prep coffee morning which we hope you will enjoy next Friday when it's on Youtube!