Dinos and diggers
06 May 2021
There has been lots of roaring this week in Nursery when the dinosaurs and diggers arrived.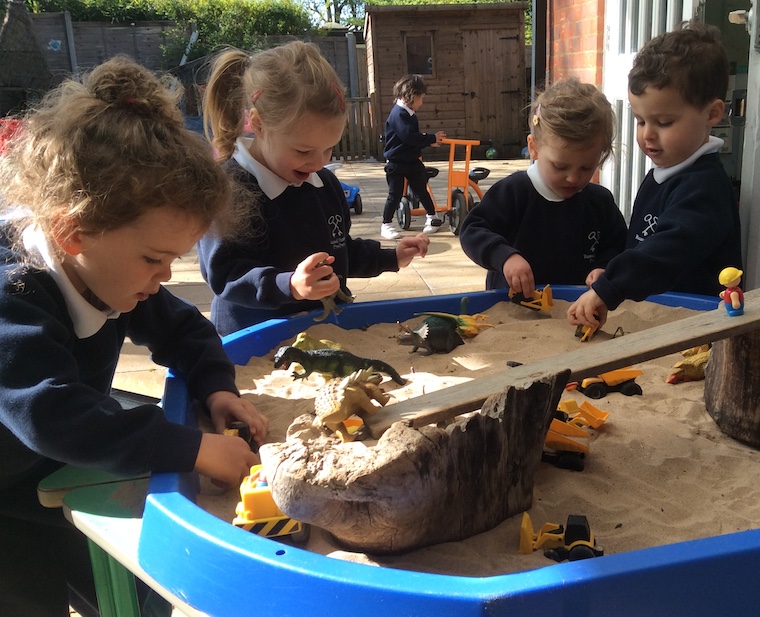 Diggersaurs is a favourite story in Nursery. It prompts so much interaction from the children who show interest in the illustrations, numbers and the little builders who cope with the diggersaurs in a comical way.
The children created their own dinosaur skeletons by cutting and snipping straws to make bones for their pictures. There were lots of funny moments as the pieces of straw pinged across the table! They made lovely clay models of dinosaurs by adding natural objects to create some friendly and scary dinosaurs.
The dinosaurs and diggers came together in the sand tray for some beautiful imaginative play. It was lovely to hear the children recalling the names of the diggersaurs as they played. By combining the sand with mud, leaves, sticks and water, we made a swamp for the diggersaurs which resulted in some very messy fun!
The children painted their hands to make a handprint dinosaur in their Special Books and lots of laughter ensued from the new dinosaur names they created.
The children loved finding out how the magnets worked — just like Grabbersaurus in our story — when they explored magnets in the salt and sand!
Finally, we shared our story of Grandmas and Grandpas to celebrate grandparents day. We sat in the spring sunshine under the blossom tree to read to Mr McCarthy. We told him all about the favourite things we like to share with our grandparents and, of course, the best thing is the hugs and kisses! Look out for the link on YouTube on Friday.