Into the woods!
27 May 2021
Transition had such fun during their Forest School activities.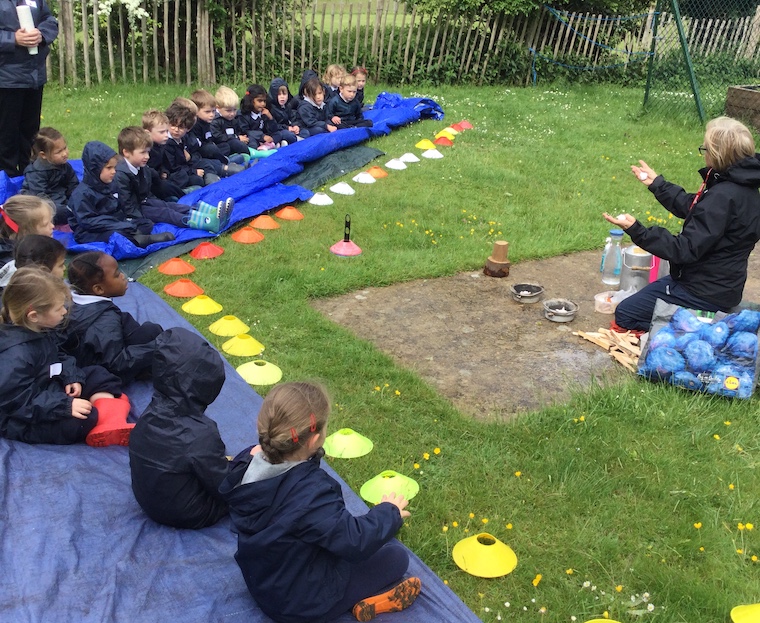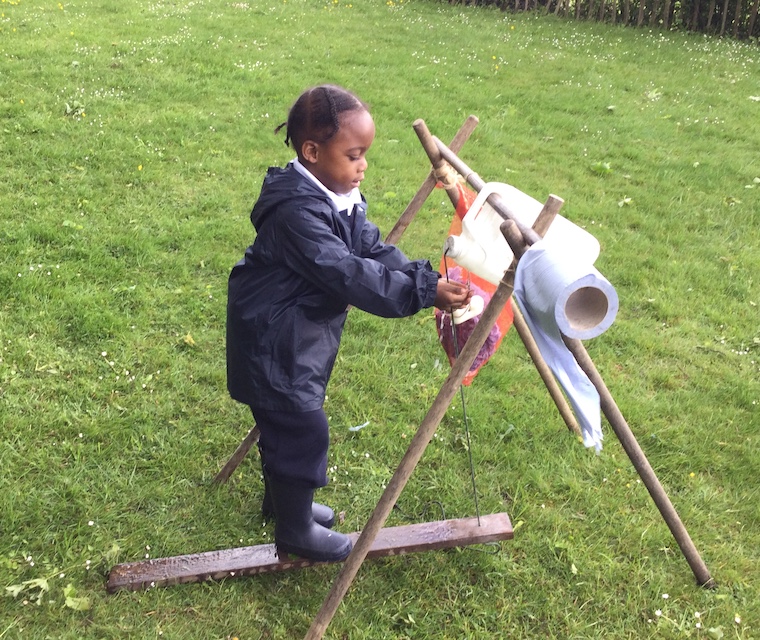 What an incredible start to the week we had, with our morning of Forest School activities on the Paddock on Monday! Having practised the donning of our wellies and raincoats so much recently, Transition were unperturbed when we saw the rain coming down in stair rods, just as we set off from our classroom. Nothing was going to dampen our spirits as we prepared for our morning of fun!
We arrived at the outdoor classroom, ready to meet the ranger from Lullingstone Country Park, Donna, who explained the Forest School rules and detailed the fabulous activities that she had planned for us.
We started by going on a forest animal hunt and quickly set about searching for toy owls, foxes, hedgehogs, squirrels and ducks. It was lovely to see children helping one another if they had already found an animal themselves. Next, the children were encouraged to think about where their animal would live and make a suitable shelter or nest for it. Some cosy and imaginative homes were constructed in a variety of locations.
Stick people were then created and some children chose to decorate small pieces of wood. In between all the activities, the children loved using the 'tippy tap', a fabulous hand washing station which the children learned how to operate very quickly, complete with a soap on a rope and paper towel!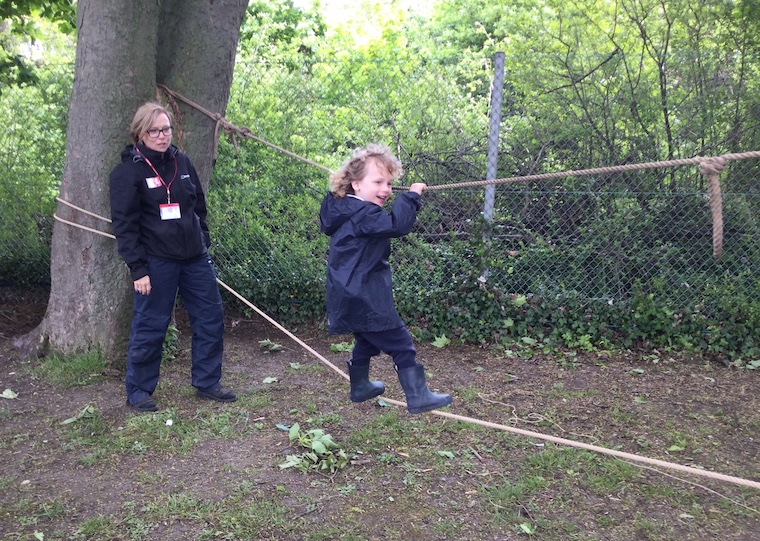 With storm clouds gathering, I must admit I was not so sure that our planned campfire would be possible. But the indefatigable Donna reassured me she could light a fire in a storm if needs be! The ensuing hot chocolate and popcorn, freshly toasted, were major highlights of the morning, and we all agreed that there was nothing quite like it. Even if it was raining, it simply added to the fun!
Play and exploration with ropes came next and, in what seemed like a matter of minutes, Donna had deftly constructed a 'rope bridge' between the tall trees. I am proud to say that every child in the class managed to get across the 'raging torrent with sharks' below. It was incredible to see everyone, even those who at first were a little hesitant, gaining confidence before our very eyes. It was very moving to hear every child supported and cheered across by their classmates. A huge team-building exercise and an achievement that every child could be proud of.
It really was a memorable morning, summed up superbly by Donna, who said that all the children showed great confidence, creativity and resilience. What an amazing set of attributes for such young children!
Of course, we just had to make Donna a thank you card, which we decorated with flowers and leaves. Inside which, all the children drew a picture of themselves. I will deliver this to Donna at Lullingstone. We told the Pre-Prep about our Forest School adventures in Assembly this week and sang our rhyme, In a cottage, in a wood.
We hope you enjoy the photos of our morning, and being a fly on the wall at our Pre-Prep Coffee Morning when you will see an aspect of expressive arts and design in class.
Mrs Nelson, Miss Mitchem and I hope that everyone enjoys a super break, after what has been a fun and productive first half of the summer term. Let the sunshine and the ice-creams begin!