Sets and sorting
27 May 2021
Lots of activities in Form 1 were connected with sorting into sets this week.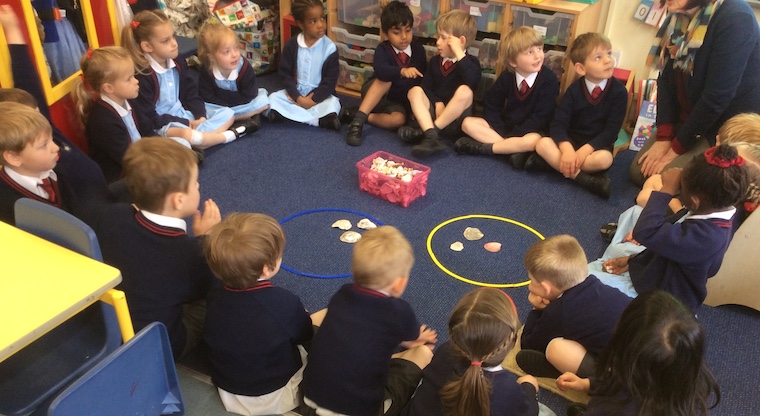 Last Friday saw the children using their imagination and creativity to the full whilst working on some transient art activities after looking at the work of Andy Goldsworthy. The results were joyous, so I am delighted that Mr McCarthy was able to film the children at work for our virtual Pre-Prep Coffee Morning.
Do watch it, and please read the information for Form 1's activity to get a full flavour of the video as well as the photos here of their art work which they took themselves on the class iPad.
After the activity, the children all tidied up beautifully which involved separating the resources back into different containers. I mention this here because the simple act of tidying away involved the mathematical activity of sorting items into sets. Not only is it sorting practice for the children, but I used it to help introduce the children to our latest work on sets.
It is always best to work practically and all had a chance to make sets of socks and shells whilst learning the basic concepts of multiplication.
It takes real listening powers to hear and understand each question such as "How many sets?", "How many shells in each set?" and then "How many shells in three sets of two shells?" Many card games involve the concept of making sets so please do have a try at playing Go Fish!, the rules of which I have sent home for half-term.
We often use playing cards in class and here the children competed to make a set of three cards of the same number or a set of four cards of the same suit and so on. The possibilities are endless and involve lots of skills as well as lots of fun!
Our work on the 3 Rs continues and, as you can see from the photos, the children were very excited to reuse plastic milk containers and scrunched up newspaper to make a fun game. Once the ball catchers were made, they absolutely had to be played with immediately.
Finally, I must say, the children really have taken on the art of reusing to new heights by turning one of our cardboard boxes into a car - not any old car though. When I asked them what they had made, they promptly replied, "A Lamborghini!".