Going bananas!
27 May 2021
There's been lots of chatter about bananas... and sharing... and butterflies in Nursery this week.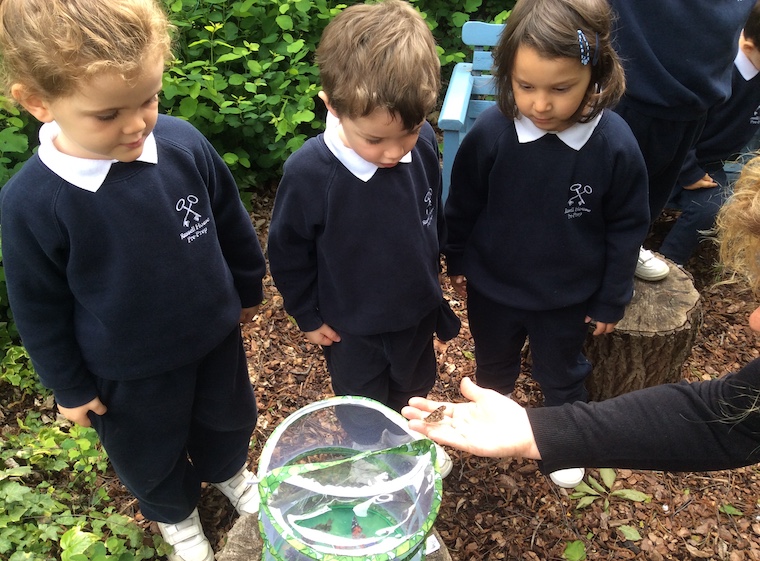 Everyone has been going bananas in Nursery this week when we read one of our favourite stories, Banana! It's a simple but effective story about sharing and saying 'please', with the two monkeys often being named after mummies, daddies and siblings. It causes no end of hilarity every time we read it and brings lots of conversation from the children.
In the story, the monkeys share the banana in the end by breaking it in half, so the children have been busy practising their skills cutting circles and squares into halves! They created some beautiful printing using halves of oranges and lemons for their Special Books. We have also had games for sharing and taking turns.
We made delicious banana cakes and had much fun squishing the bananas. We hope you got to share some at home! The children have also been thinking about 'acts of kindness'. We have a special basket to keep them in which includes some really lovely thoughtful acts of kindness.
There was exciting news, although tinged with a little sadness, this week. Our five butterflies have hatched, so we said goodbye to them as they flew away in our Fairy Garden hopefully to start the life cycle all over again. We were lucky enough to watch one of the butterflies emerge from its cocoon. What an amazing experience!
Practice is well under way for our Nursery Sports Day, which includes some very funny and entertaining races. And yippee - finally the sun has arrived! How lovely to see the blue skies instead of all those grey rain clouds! Mrs Sayers and I hope you enjoy watching the Nursery exploring colours in the Pre-Prep coffee morning video and wish you the happiest of half terms.