Sport reports: Hockey
24 Sep 2021
The hockey season got off to a great start!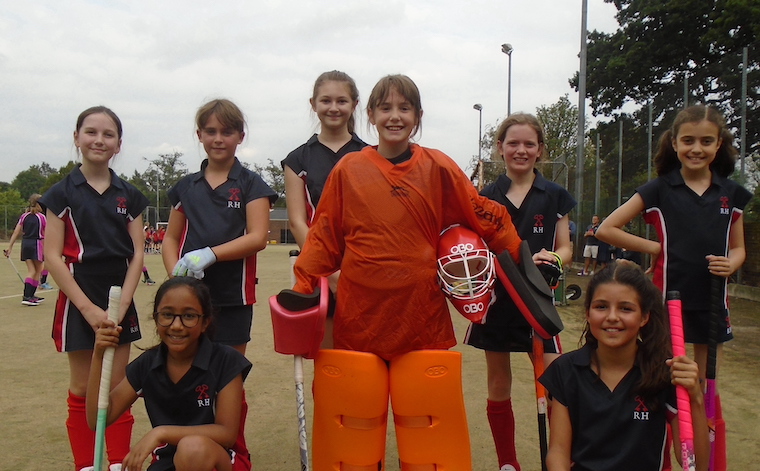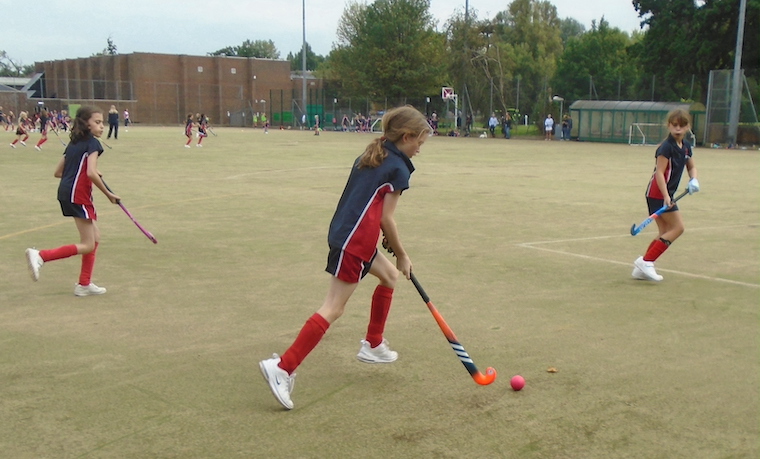 U11 v Hazelwood: This was our first time with a goalkeeper and we were all very excited. Our goalie was excellent at kicking the ball out with her feet, which was very handy. She was also our Player of the Match because she played so well. We won the match 4-2 and there were times when it was really close. We were very proud of ourselves and our team. We were very good at scoring goals. Charlotte scored one and Martha scored three, but we all worked together to get there. We were the first to score in the match and were ahead at half time, even though we didn't get the first push back. Martha had some very good hits into the side of the goal and Charlotte was always in a good space to pass to. We all had lots of fun and Dorothy was great supporting us on the sidelines.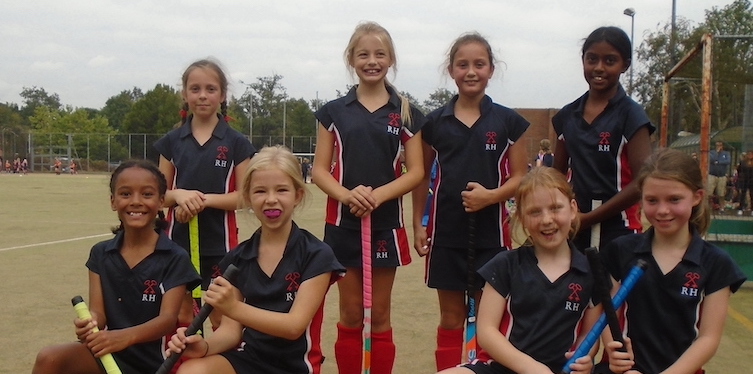 U10A v Hazelwood: It was a brilliant first match for Form 6 and we played really well. We all did lots of great passing and communicated well. Ella M and Nicole did some especially good dribbling and passing. We won 6-0. It was an excellent match. Well done to everyone for such a great result!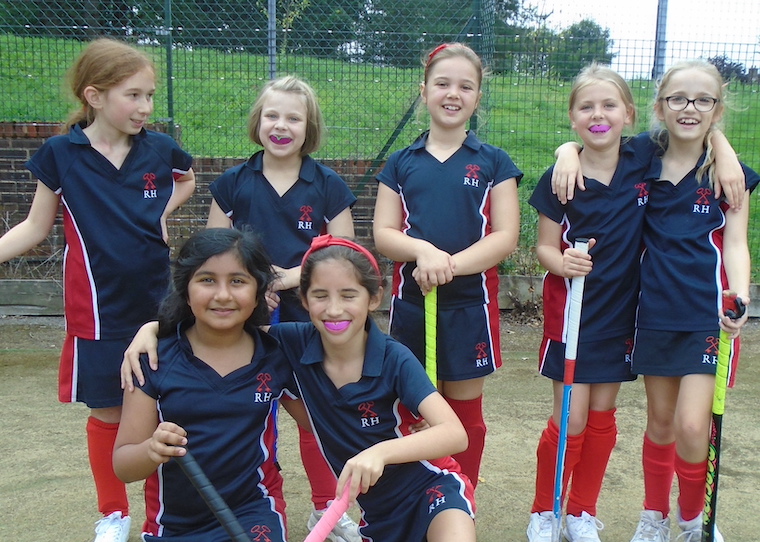 U10B v Hazelwood: This was a great day for the B team. We played Hazelwood and managed to win 2-1. Our competitors gave a strong performance too. Dakota and Emily scored both our goals and the rest of the team supported amazingly with great coordination between the players. Amber was chosen as player of the match. Match tea was delicious. It included biscuits, juice, crisps and fruit. What an amazing start to the season! I can't wait to see what's yet to come.
U9 v Rose Hill: We worked well together as a team and managed to do some good passes and controlled the ball well. We scored a goal in the first half, but Rose Hill equalised in the second half, so the match ended in a draw. Georgina played fantastically and was player of the match. Well done to Isabella, who scored our goal.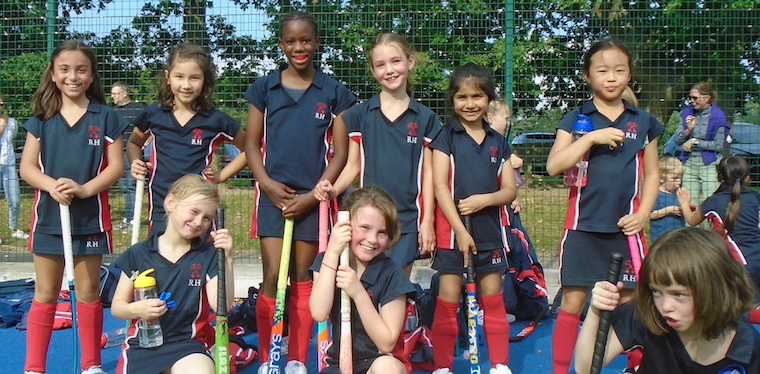 U8 v Rose Hill: All our U8 girls played their first ever hockey match against Rose Hill. It was a hot and sunny day and the girls were extremely excited. As it was our first ever match, the girls were learning how to stay in their positions, as well as how to attack and defend. They all had so much fun and even though we didn't score any goals, we saw some great defending, especially from Georgiana. Well done, Russell House! We look forward to the next match!
Reports by: Megan, Madison, Amber & Isabella.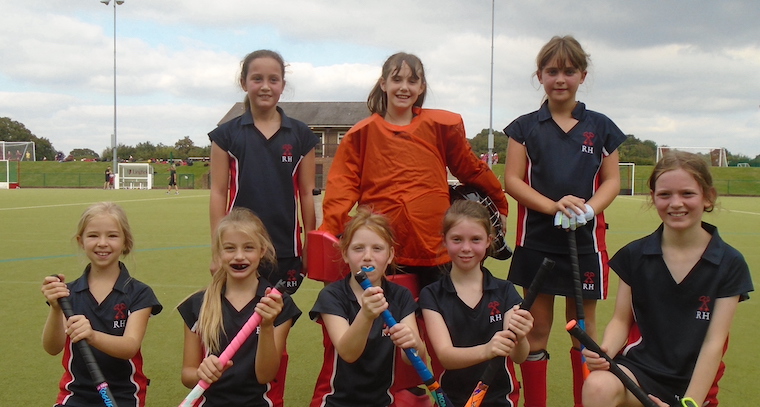 U10/11A v Lingfield College Prep: Everyone played amazingly well and by the first half we had scored two goals. Ella M was amazing in defence and maintained a brilliant balance between attack and defence. By the end of the match we had done two short corners, one in attack and one in defence - our first time in a match. We then scored another two goals from open play. The goals were scored by Martha and Charlotte. Charlotte was player of the match and, by the end, we were all very excited to have match tea. We won 4-0. Well done Russell House!
U10/11B v Lingfield College Prep: The final score was 2-2, with Nicole and Mevna scoring our goals. Many goals were saved by their goalkeeper. Our defence was very strong, assisted by our goalkeeper. Most of the match we were attacking and had plenty of near misses or saves by the goalkeeper. We were unlucky not to win, but it was a really fun match with so many spectacular moments. Well done to Mevna, our Player of the Match. A great game for Russell House!
U10/11C v Lingfield College Prep: We defended very well, but Lingfield got the first shot on goal. This shot found the net and Lingfield were 1-0 up. We had many chances on goal, but we couldn't quite manage to get past the goalkeeper.
In the second half, Russell House went forward looking for their goal. Niah made some fantastic runs down the wing, with at least five shots on goal being saved! We dominated the second half, but sadly we couldn't get the ball past their excellent goalkeeper. The match finished 1-0. We were unlucky to not get at least a draw, but we were very pleased with how well we played.
U9A v Lingfield College Prep: Russell House played really well and we all tried our best. Bella and Georgina scored a goal each. Isla was very good at tackling and Clara was great at defending. Miss Smith gave us lots of encouragement and advice. We all enjoyed the match and loved eating match tea. Well done to Lingfield, who won 5-2.
U9B v Lingfield College Prep: What a great match! We won 6-2 against Lingfield. The whole team supported each other really well. Annabella was player of the match. Izzy, Georgie, Beatrix and Elizabeth were incredible on the hockey pitch. A result like that proves team work makes the dream work! We all had a well-deserved match tea afterwards. Well played, Russell House!
Reports by: Charlotte, Annabel, Emelia, Mia and Anaya.