All things autumnal
07 Oct 2021
Transition have been on a collecting walk around the school grounds.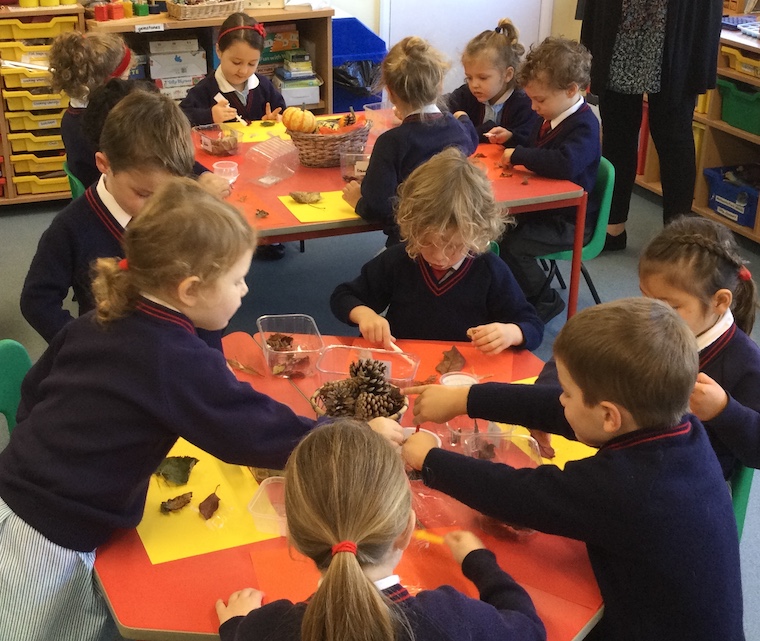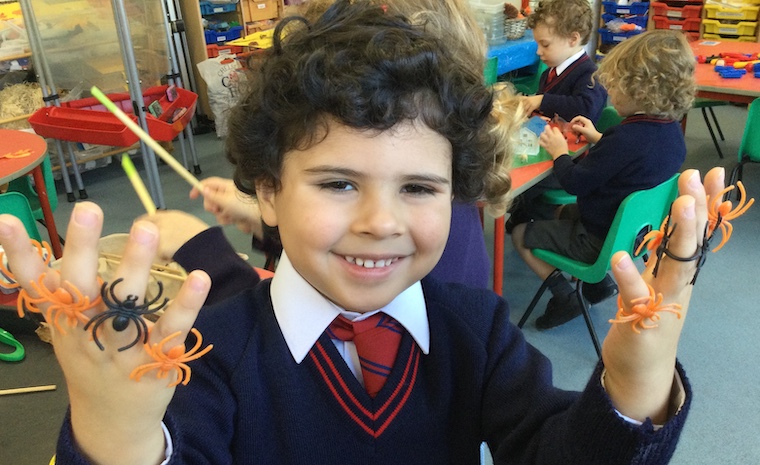 Our seasonal activities have continued this week, with one of the highlights being our very special whole school Harvest Assembly on Wednesday. We all enjoyed coming together and performing to such a packed hall of smiling faces.
Earlier in the week, we took advantage of the break in the showers to go on a collecting walk, to see just how many autumnal objects we could find around the school grounds. Armed with their own collecting pots, the children were tasked with finding five different things, which made them very discerning as to what they placed into their pot. Pretty autumn-coloured, crinkly leaves, seedpods and feathers were all enthusiastically found and shown to friends! Upon our return to the classroom, the children created their own piece of botanical art, the results of which are stunning in their simplicity and are now on display.
Finger Gym has seen the children using tongs and chopsticks to pick up the toy spiders and to place the conkers on top of the golf tees. I must say that the children quickly became more adept than me at this task, and they especially enjoyed scaring Mrs Nelson and me with the spiders!
One of our children brought in a lovely book for us to read, The Squirrels Who Squabbled. It inspired us to hone our acting skills and become a class of squabbling squirrels - resulting in lots of laughter!
Our physical education lesson saw us practising our balance skills, as we all tried to see how long we could stand on one leg. We also did some beanbag activities; slamming, throwing and catching them and, in line with the season, we just had to pretend to be Dingle Dangle Scarecrows too.
This week's letter sound is 'u'. The children watched me put up an umbrella in the classroom and now they know exactly how to perform the action to match the sound. Fingers crossed that nobody needs an umbrella at the weekend!