All set for crumble...
07 Oct 2021
It's harvest time and Form 1 have been making crumble.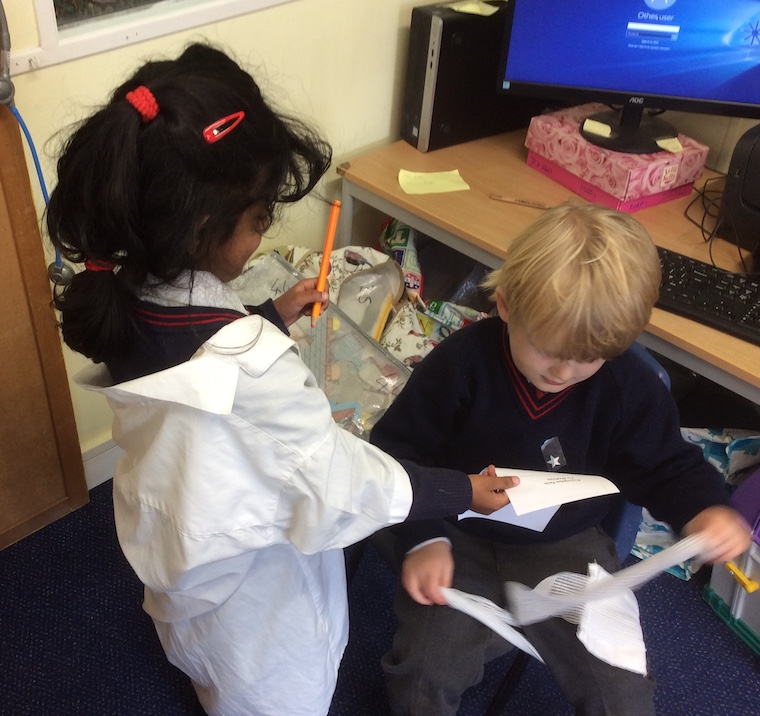 Harvest time has been very much at the centre of our work this week. I was delighted with the children's confident performance at our Harvest Assembly and it was wonderful to be able to invite parents back into school for the occasion.
We have been talking all about keeping healthy and remembering the importance of eating lots of fruit and vegetables. With this in mind, we had lots of fun finding windfall apples in the paddock under the trees. The children stood well back as I took to wiggling the trees and, at their suggestion, using a long stick to knock even more apples from the tree. They were so excited, especially with the thought of a tasty apple crumble being prepared by them, ready to cook at home.
The children have increased their knowledge of vegetables by using a good variety for printing. The resulting artwork is spectacular.
Continuing with the theme of keeping healthy, we have been talking, drawing and writing about the medical profession - including doctors, nurses, opticians and dentists, among others. In our role-play area, the children have been writing prescriptions and practising their bandaging skills.
In Maths, we have been concentrating on the concept of more and less. Firstly, using resources to compare quantities, then building towers, before finally putting their good understanding onto paper. The children also loved making puppets using the Biff and Chip book Six in a Bed to reinforce their learning about one more and one less. Their growing confidence and independence was quite clear to see when I demonstrated the process and then gave them a series of instructions of how to make their puppets - they went on to organise their resources and basically just got on with it! They then made up number stories about the different characters getting in and out of bed for various reasons - something I imagine you are all very familiar with as part of your children's bedtime routines!