A green theme
14 Oct 2021
Our topic this week in Russell Robins was Environmental Awareness.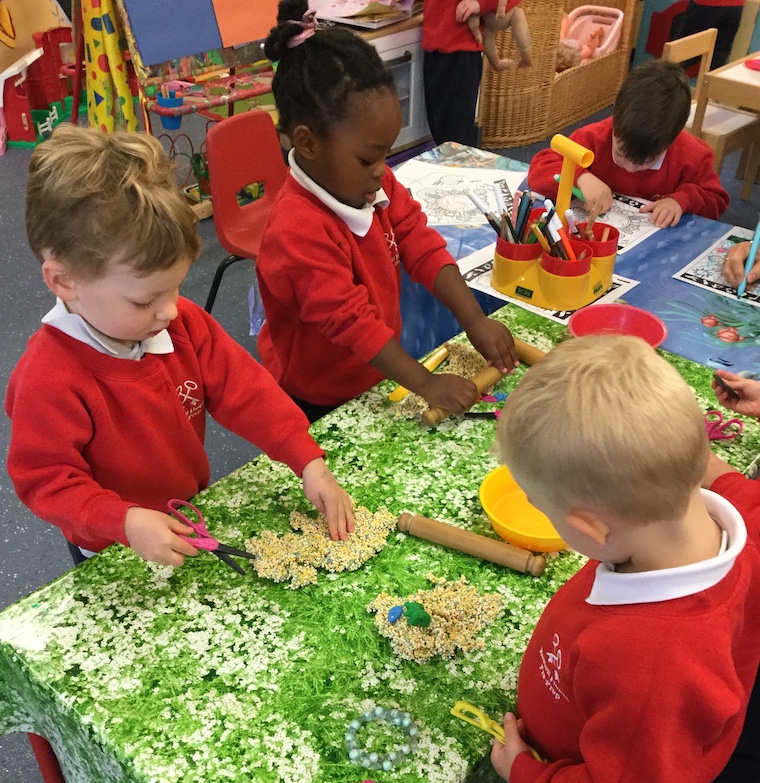 The children enjoyed learning about how we help the environment. This ranged from recycling to saving energy by switching off the lights when we leave the room. Our Robins are very good at saving rainwater to use in our play, rather than using a tap. We regularly ensure our pots and pans are out to collect rainwater. The children then share and transport the rainwater while they are busy making lots of cakes and soup.
We watched a video called A Whale's Tale highlighting the impact of rubbish on our environment. We spoke about the importance of putting our rubbish in the bin. The children coloured pictures connected to our topic, and it was lovely to see them sharing crayons and pens. We reused cardboard tubes and plastic containers in our play, rather than disposing of them. One Robin used the cardboard tube to make a cake with her playdough.
Our cooking activities this week consisted of fruit kebabs and pizzas. The children were very independent making their kebabs, carefully threading fruit onto their skewers. We had fun making pizza muffins. We made a special delivery to Mr McCarthy and Mrs Irvine. Mr McCarthy was very pleased with his pizza and our Robins were able to explain how we made the pizzas and the ingredients we used. They also remembered our special herb 'oregano'.
We enjoyed a lovely picnic on the school field overlooking the North Downs. The view was amazing, and it prompted a discussion about what we could see. We finished our picnic with a play at Amber's House.