Christmas post
01 Dec 2021
Transition's postal staff are gearing up for the busy Christmas season.
Nothing beats being organised for Christmas, so if you want to avoid queues at the Post Office, come down to the Transition classroom as soon as you can! Our ever-friendly and helpful counter staff will guide you through the process of writing and sending letters, postcards, cards and parcels, and they are full of advice on last posting dates for Christmas and the price of postage!
As you can see, the children have thoroughly enjoyed all manner of mark-making activities alongside their role-play. These have included colouring in outlines of postboxes, stamps, bicycles (not that we see many postmen on bikes these days!) and Post Offices, as well as writing letters and postcards and delivering parcels.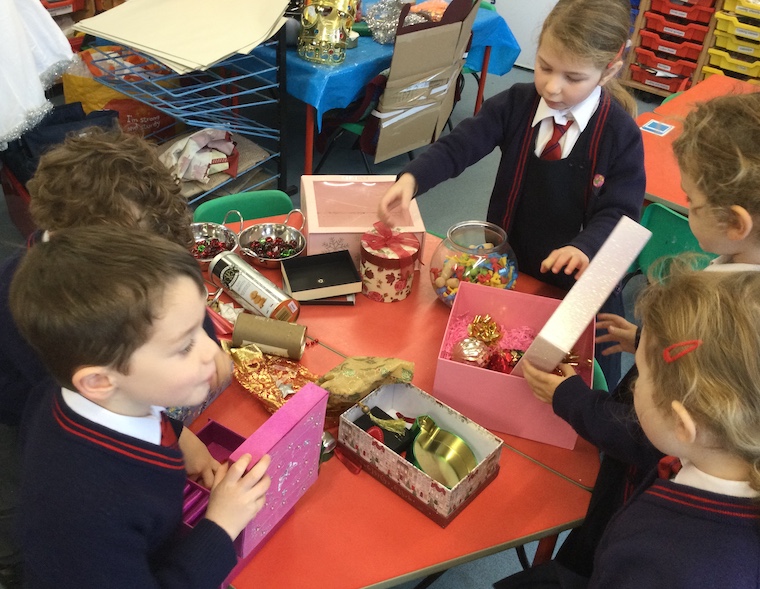 Mrs Nelson and I have been receiving a succession of interesting boxes and packages all week - so much so that we extended the children's play by giving them Christmas boxes and tins to explore, fill and empty. All this activity has helped ease us into the start of December and thinking about Christmas.
We have had Circle Time discussions about Advent and there has been lots of excitement about calendars involving chocolate. The children thought it was very strange when I told them that when Mrs Nelson and I were little girls, we became just as excited to open the window each day to little pictures - no chocolate!
Of course, this has been in addition to practising our Christmas play and singing the songs in readiness for our performances next week. One of our children drew an amazing picture of a reindeer too.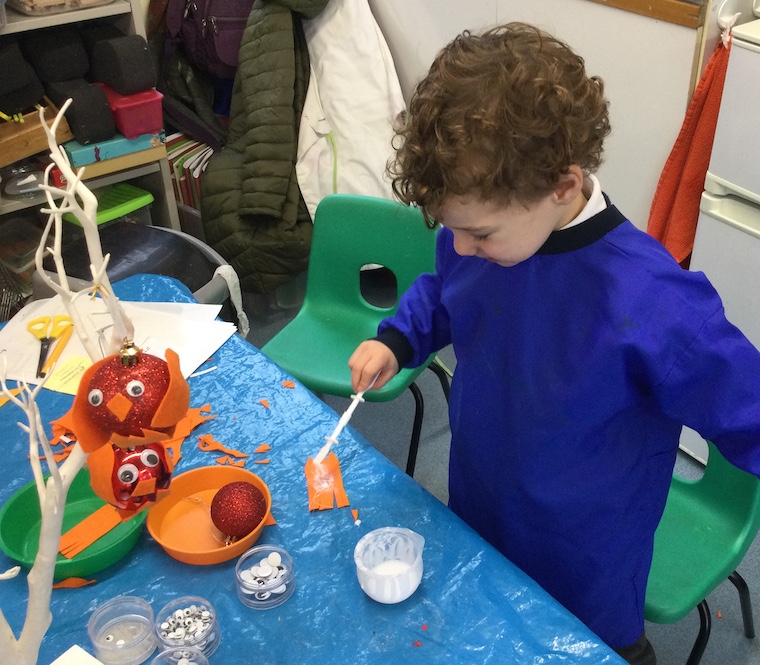 The children made extremely cute Christmas robins during the week, which will be flying home at the end of term to land on Christmas trees. I was so impressed with the care that everyone took with this activity, using the glue spreader and giving their fingers a workout as they manipulated all the parts and stuck them onto their chosen bauble. Our Winter tree is already looking very colourful and gets lots of 'oohs and aahs' from visitors to our classroom.
This week's letter sound is 'w'. What a lot of wonderful words we found, including wish, wind, witch, welly, wall, wine, why, window, William, weather, wet and watermelon - and we enjoyed reading a story about Winnie the Witch and her cat, Wilbur, to help reinforce the sound. Have a wonderful weekend everyone!