Books and all things bookish
03 Mar 2022
Our topic of 'books and all things bookish' has certainly led to a fun filled week! Although books are part of every single day in Form 1, this week has seen the children getting even more excited about the wonderful world of books.
Monday saw the children drawing and writing about their favourite books, which led to lots of discussion as well as some great sentences. The children were delighted to realise that they were all authors and illustrators themselves.
Tuesday was full of excitement as we had a visit from the author Lou Kuenzler, who kept the children enraptured as she read from her many books. The children also loved making their own zig-zag mini alphabet books which once completed, they tucked into their pockets ready to pull out when required. Mr Wolf's Pancakes (very topical of course) was enjoyed with the ending giving the children quite a surprise!
Wednesday included the children creating their own bookmarks and as always, they fell into silence as they concentrated on finding the perfect 'sparkles' to decorate their creations. I know many of the older children in the school still have their bookmarks from Form 1. The children also became very involved in our book scavenger hunt. Working as a team and with their trusty clipboards, the children looked in our class books to find a total of nine listed items which they ticked off with amazing speed. We were so impressed with the way that many of them knew which books to pull out to find a particular item on the checklist. The most elusive item proved to be 'a grumpy character'. However, Five Minutes Peace (with which you are all likely familiar) provided a picture of Mrs Large stomping up the stairs for a little bit of peace - we've all been there!
Thursday - what can I say? It was an absolute triumph with all the children kitted out in their fantastic book costumes. Thank you, parents! The Form 1 grown-ups came as characters from Peter Pan - a very magical book indeed - and unfortunately, as Smee I didn't even have to use a pillow to plump out my costume!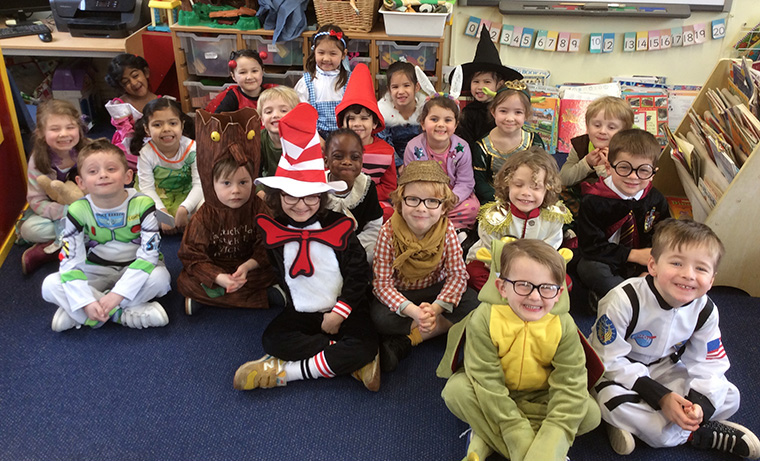 Friday involved the children drawing and writing about their many fun events during the week. We also enjoyed sharing the children's favourite books, which they had kindly brought into school. Book Week was also used as an excuse to make books all about partitioning (splitting) the number five in many different ways. We were so impressed by how quickly the class picked up the idea that a group of five children, five cakes or five pencils could be split in many different ways and I was even more pleased when they managed to say number sentences using the mathematical terminology of 'plus' and 'equals'.