Pancakes, pages and (evil) peas
03 Mar 2022
Our topics this week in Robins were book week, pancake day and St David's Day.
On Monday, the children were very excited when they entered Robins as there were some cheeky dinosaurs wearing…underpants. Thankfully, there were no accidents as the dinosaurs remembered to use the toilet!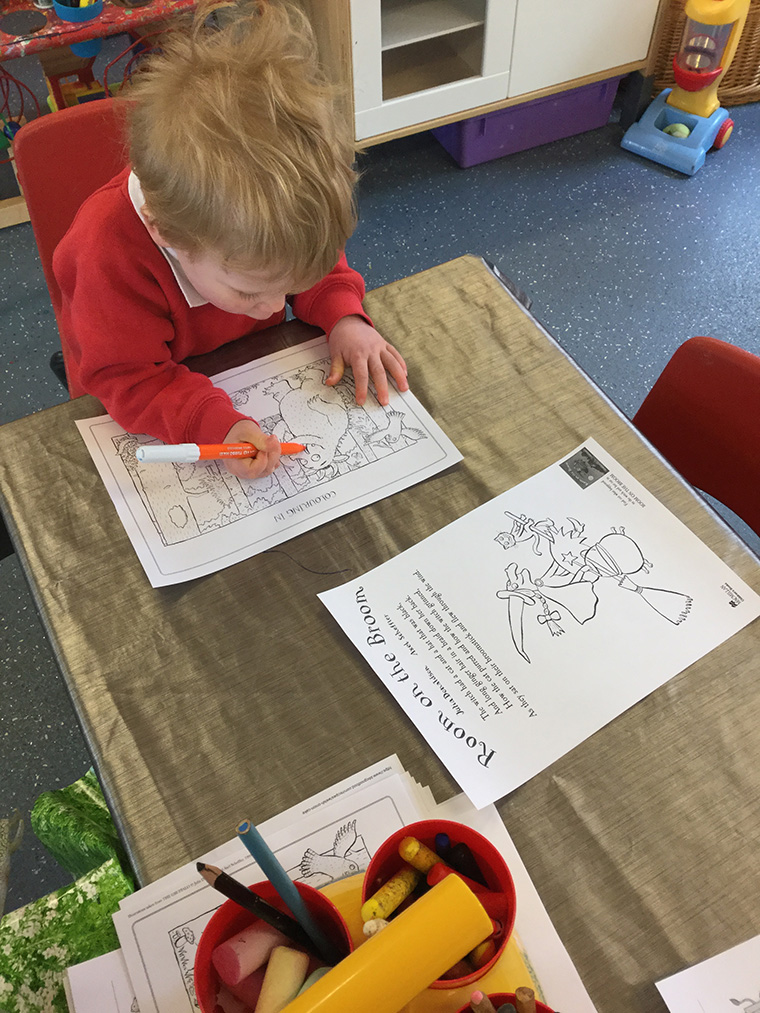 The Robins enjoyed using a variety of mark-making tools to add colour to their story book colouring pictures. We were very impressed when the Robins remembered to pop their lids on top of the pens.
We read a variety of stories this week, but I think our favourites were Dear Zoo, Little Rabbit Foo Foo and Supertato. The children had lots of fun finding the Evil Peas as some had escaped from the freezer.
On Tuesday it was pancake day so we enjoyed some delicious pancakes with a variety of toppings. Lemon and sugar were the most popular and they had lots of fun squeeeeezing the lemons. The children then sprinkled a little sugar on top before eating. In the afternoon we had cinema time and watched Mr Wolf's Pancakes.
We also celebrated St David's Day and the children enjoyed adding lots of colour to their dragon pictures. Some Robins thought it was the same dragon from our Room on the Broom story.
It was our turn to host the Pre-Prep assembly this week and the Robins did such a fantastic job. They were super confident standing in front of their friends and teachers to show their wonderful creations. Our topic was 'Spring' so the children made some beautiful flowers. We finished our assembly by shaking our bells and singing along to Old MacDonald. We gave the song a little tweak to include baby animals and it was lovely to see the Pre-Prep children put up their hands to answer questions.
On Thursday it was World Book Day, so we had lots of fun dressing up as part of our magic and mystery theme. There were so many fabulous costumes and the children enjoyed talking about their costumes during carpet time. As part of this topic, we had a special treat as Mr Benn (aka Mr McCarthy) visited us and read our Robins a lovely story. He was very impressed with their good sitting and good listening skills. Well done, Robins!