Authors and illustrators
03 Mar 2022
Our week has been packed to the gunnels with 'all things bookish'.
We started things off by carrying out a scavenger hunt, searching for specific characters and objects in our classroom books. Working in pairs, great fun was had rummaging through books, trying to identify things such as 'a piece of fruit', 'a grumpy character', and 'someone wearing a hat'. We went on to create our own, colourful bookmarks, which I hope will come in useful at home, especially when the children do not want to miss the end of an exciting story at bedtime!
Next, we shared some super stories with a real live author - Lou Kuenzler. Everyone sat beautifully throughout and they demonstrated amazing listening skills, such that they could answer questions and identify rhyming words. We were all so inspired by this experience, we simply had to return to the classroom to brainstorm ideas for writing our own story. During this activity, everyone learned the importance of valuing each other's ideas, even if they are different to our own.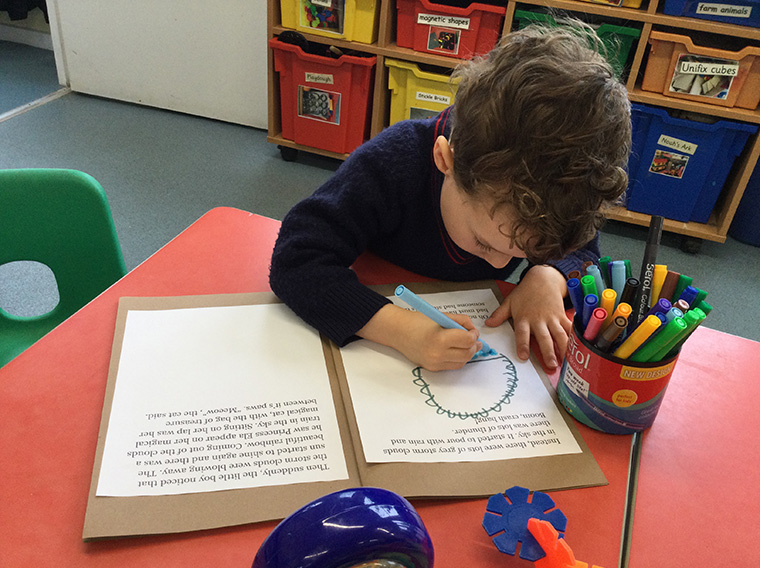 Our class story, with its title devised by the children as The Treasures Mystery, is now in print and set to be a bestseller, especially as the children have added their own illustrations! We were delighted to show our book to Mr McCarthy on World Book Day and he read it to us whilst we were all dressed up!
In other activities this week, the children have been enjoying their new science centre role-play area, where there are a whole range of interesting objects for them to explore such as magnets and torches. They have been wearing overalls and goggles and using pipettes and jugs at the water tray too. Some children have brought in encyclopaedias from home for show and tell, which of course have fitted in perfectly.
Our first experiment as budding scientists was to see what happens when we melt Skittles sweets in warm water. The children were delighted to see a rainbow appear in front of their eyes, with one of the children exclaiming, "It's like our colour wheel!"
Some children then chose to make their own colour wheels with colour paint charts, using a hole punch and assembling them with a butterfly clip.
Finger Gym has involved the children carefully stretching the elastic bands around the tiny pushpins to create shapes and interesting patterns, including colour wheels.
With our letter sound of 'i', it has most certainly been an interesting week in Transition!