Blooming marvellous
25 Mar 2022
Everyone was so excited on Monday morning to see that our role-play area had changed again. The children noticed that a very colourful pop-up Garden Centre had appeared.......just in time for Mother's Day!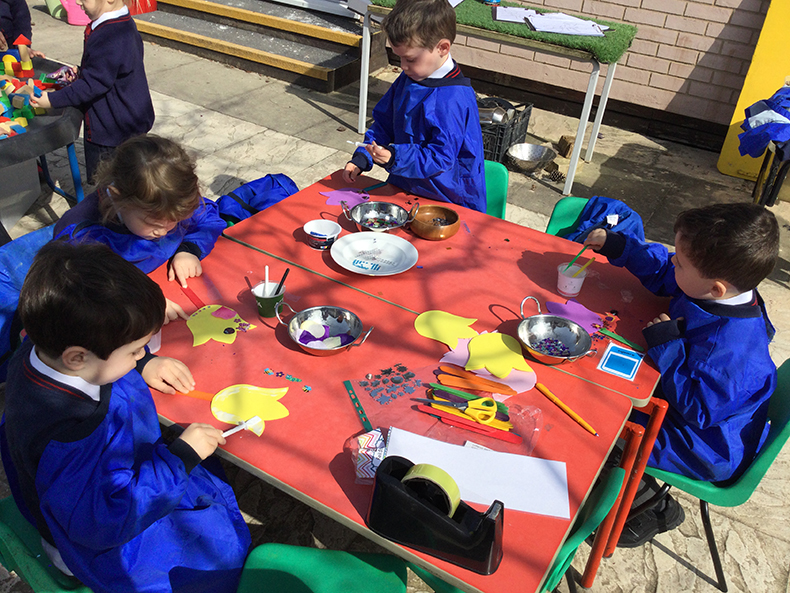 Having learned that a special bunch of flowers is called a bouquet, the children have had lots of fun presenting one another with beautiful bouquets of mixed flowers. Floral bouquets gave also been assembled by cutting out pictures from gardening magazines, while the children have also carried out their best ever colouring for their mummies, as part of their treats for this coming Sunday.
They were very excited to visit the amazing Mother's Day stall, where they were very discerning shoppers; deliberating over gifts and choosing wisely for their mummies.
We have of course, taken advantage of the glorious weather and enjoyed lots of play outside. Crafting in the sunshine was really special, especially when we saw how the sunlight made our creations sparkle. We also carried out a lovely spring walk, spotting items of nature outside such as blossom, leaf buds and daffodils and ticking items off from our checklist. We even spotted Mr McCarthy, although he wasn't on our checklist! Next week, the children will use their knowledge to make their very own Signs of Spring booklet.
With Easter on the horizon, we have also been doing lots of spring puzzles. Lots of Easter bunnies have appeared in the classroom too, decorating the tree and delivering little eggs to everyone! We have also been working on a new rhyme, called In a cottage, in a wood, that includes a rabbit and involves remembering many actions. I wonder how many grown-ups will be familiar with this one; do ask the children to demonstrate!
This week's focus letters are 'c' and 'k'. We had a multitude of ideas coming from the children, including cake, castanets, cobweb, clown, cockerel, cloud, kite, carrot, Kevin, crown, coffee, kick, clicking and many more. The children are becoming so proficient at hearing the initial sounds in words now and they like to come up with new ideas at every opportunity during their play. We also listened to the story of Contrary Mary, which went on to inspire us to come back from the paddock a 'contrary way'; coming an unusual route home through the Nursery and even Form 2 classrooms!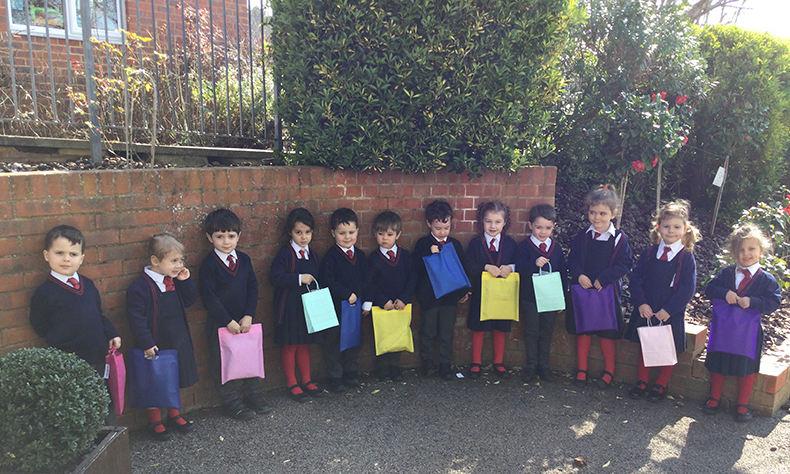 All that remains is to say that we hope that the warm sunshine continues over the weekend and that all of our lovely mummies enjoy all their cards and treats and have a very special day on Sunday!