Diggers, dinosaurs and diggersaurs
13 May 2022
This week has all been about diggers, dinosaurs and of course diggersaurs!
We have had so much fun learning about dinosaurs - we have our very own David Attenborough in Nursery who can tell us all about dinosaurs!
The children rolled patterns onto a dinosaur shape, then they looked and listened to the letters in their names to make their very own dinosaur name.
The diggers have been driven through the paint to make colourful patterns and marks with the tracks and there was, of course, lots of colourful painting too!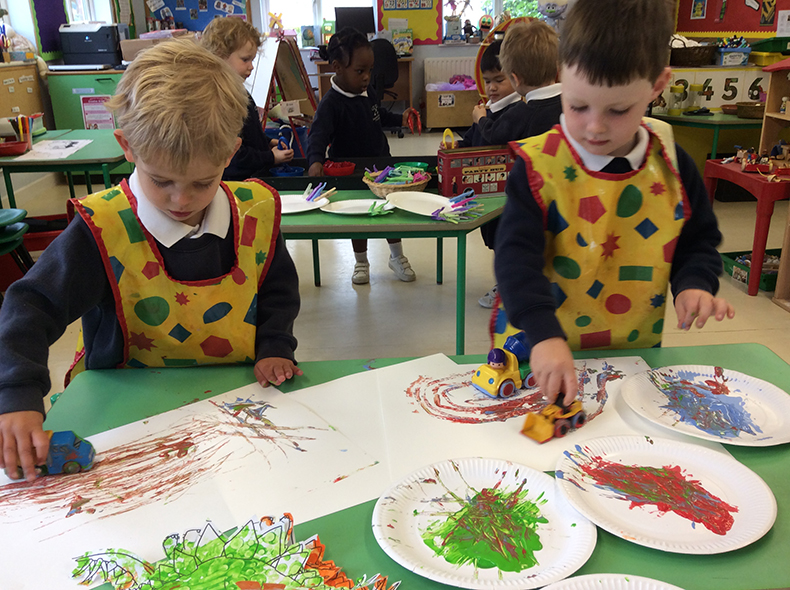 The children were very excited to find baby dinosaurs in the eggs and they all spent a long time matching them with the mummy and daddy dinosaurs. There was further fun to be had with the dinosaurs and diggers in the Rice Krispies - scooping with the diggers, the dinosaurs being fed and shakers being made with the eggs and the Rice Krispies!
The dinosaurs were freed from their ribbons and wool when the children used their scissor skills to snip and cut the ribbon and wool which took a lot of concentration and patience!
We looked at dinosaur skeletons and the children made collages of the skeletons and added bones by snipping the straws to glue onto their pictures - there was lots of laughing as the straws pinged across the classroom!
Dinosaurs were stuck in the ice, so the children thought of lots of ideas on how to melt the ice - so warm water was poured onto the ice to find the tiny dinosaurs inside, which led to lots of imaginative play with the water, pots and the dinosaurs.
On Monday, we were very excited to see that our huge caterpillars had built their cocoons. We are now waiting for them to hatch so that we can see the beautiful butterflies.

We are so pleased that the children are enjoying the story sacks. Unfortunately the three pigs and the wolf had disappeared... only to be found in a log pile house where they had set up home!
Teddington is so excited to finally be allowed to sleep over at the children's homes once again - he is delighted not to be shut in a dark cupboard and he is having the best time with you all so a very big thank you from him and us!