Being gentle and caring
20 May 2022
The topic this week in Robins is People Who Help Us.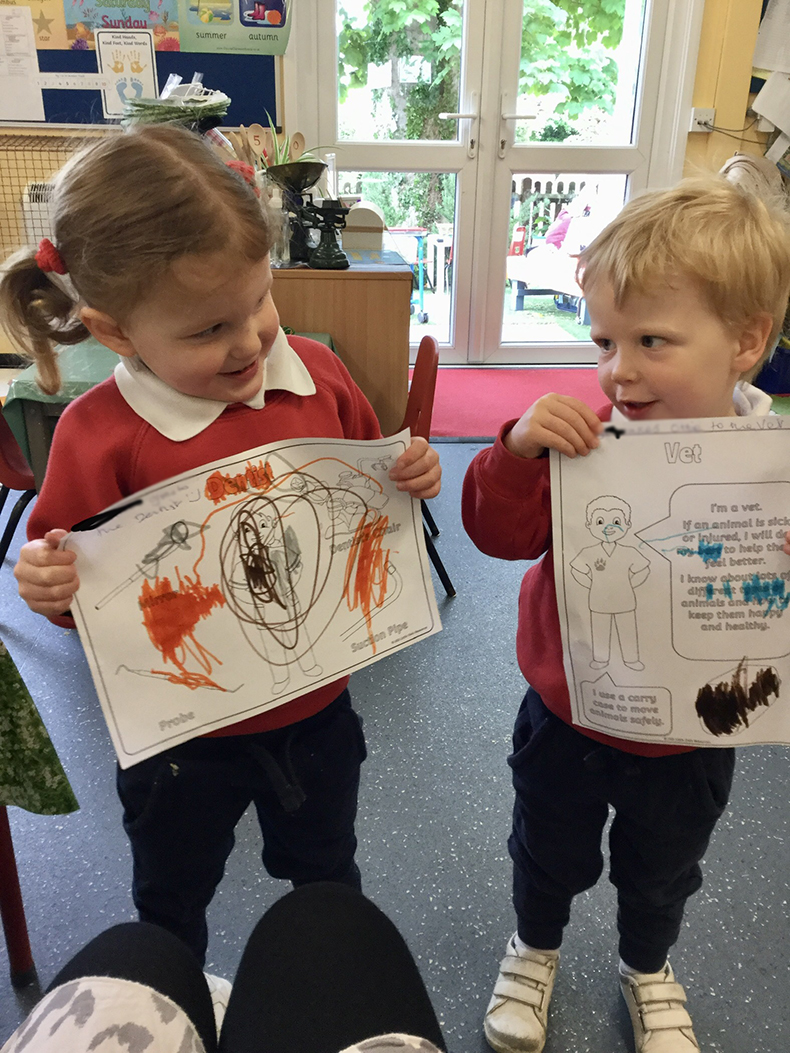 Within our topic, we looked at the roles of a vet and a dentist. The Robins had lots of fun looking after Bingo the dog and Jess the cat. They used their special medical kit to administer medicine and listened to their hearts using a stethoscope.
Unfortunately Bingo was diagnosed with an allergy as he had started to lose his fur and Jess had an ouchy leg, so the children gave her lots of TLC.
Continuing with our topic, the Robins enjoyed adding lots of colour to their pictures. The drawing table has been very popular this week and it was lovely to see so many Robins mark-making.
The children enjoyed taking part in our Scrimbling activity and it was great to see them wiggle and jiggle as they made marks to the music. We also peeled stickers to make our pictures look extra special.
Our Talk for Learning board promoted lots of discussion. The children looked at all the different pictures and they were able to recall some roles. Their favourite was a police officer. After our discussion, the Robins transformed into police officers, doctors, firefighters and veterinary surgeons and nurses. One of our Robins was able to tell us that the police officers catch the baddies and that he plays this game regularly with his daddy.
We had a discussion about keeping our teeth clean and healthy. Therefore, for our snack we made a homemade banana milkshake which we all enjoyed at snack time. It was lovely and cold, which kept us nice and cool in the weather.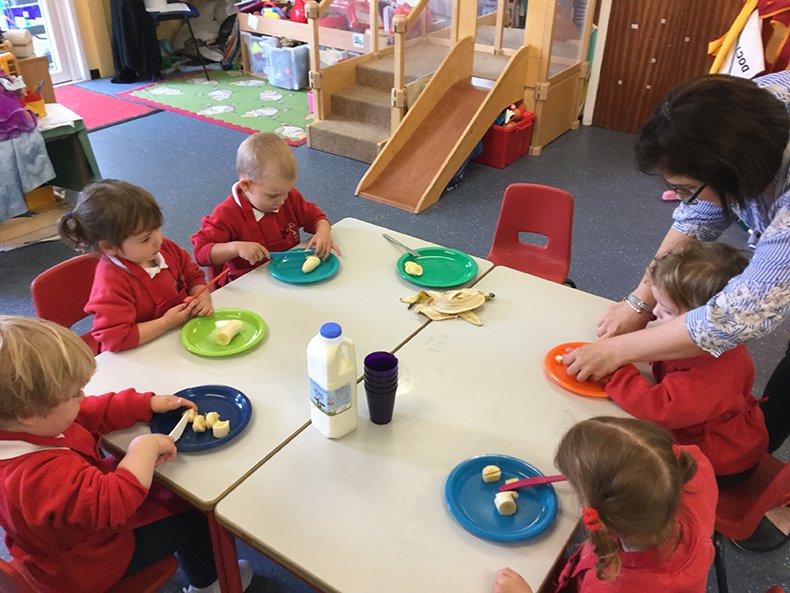 We are super proud of all the Robins as they remembered to keep their hats on when playing outside. We also wore them on our walk to the school field to practise for Sports Day. We have already started practising some races as our little ones find it much easier if they know the routine because it is more familiar to them.
It was our turn to host the Pre-Prep assembly this week. We based it on the children's favourite topic, being animals. The Robins listened well and they were confident standing in front of all their Pre-Prep friends and teachers. The children enjoyed showing their pictures to everyone and then we read the story Brown Bear, Brown Bear, What Do You See? There was also a twist, as we shook our musical instruments to make it more fun and interesting. Afterwards, we held a quiz for the older children to see if they could identify the baby animal pictures. There were goslings, cygnets, a joey and puppies.
The class caterpillars have now turned into chrysalises, so we transferred them to our lovely green butterfly pop-up house. The children are being very careful with them and it is fantastic to see how much knowledge they have gained from this experience.