Forest school fun
27 May 2022
Transition started off this week with a trip to Lullingstone Country Park. Despite the rainy day, Transition were in great spirits before we left on the minibuses.
We had a very busy morning filled with lots of learning opportunities. On our way we stopped by the meadow. Our leader explained that we can pick flowers, although it is important to be sustainable and only take what we need. Once given a sticky strip, we were able to attach our flowers and other wild plants we had picked. We continued on up to the woodland area to proceed with our forest school activities. These included; den building, creating stick people, making habitats for animals, walking along the rope bridge and playing on the rope swing!
Transition impressed us all with their balancing and climbing skills, whilst walking across the rope bridge. Many children gave it a go. They showed great determination with what could be considered a tricky task!
The next activity was the campfire. Our forest school leader explained how we stay safe during the campfire being lit. We all listened carefully to the instructions. We spoke about the different things needed to make a fire and also were able to identify steam being the indicator of boiling water. We sat around the campfire to enjoy our delicious hot chocolate. Next up, popcorn! Crunchy, hard, sweet and salty. Transition did a fantastic job at describing what the popcorn might taste and feel like. Needless to say, all edible treats were enjoyed across the class! Before returning to school, we enjoyed our packed lunches. We were all very excited to have our own lunches and there was a lot of discussion regarding sandwich fillers!
Transition class were excellent on the trip and we were all so impressed by their positive attitudes. Also, a huge thank you to our parent helpers, we hope you enjoyed yourselves as much as we did!
Here is a picture from Pyjamarama day, which we all enjoyed. It has been decided by the class that we should wear our pyjamas every day!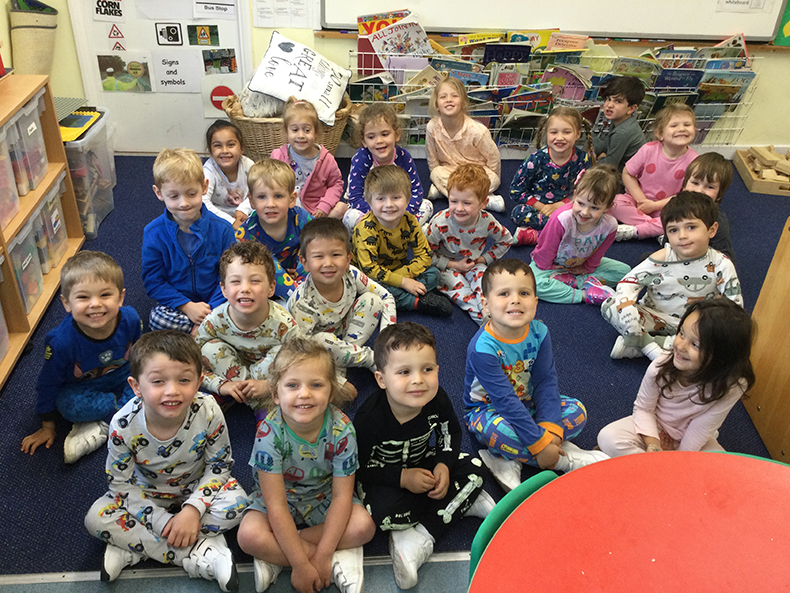 The rest of the week in Transition consisted of; watching our butterflies emerge and setting them free, drawing pictures and writing about our wonderful trip, celebrating the queen's jubilee with a picnic on the grass and winding down for the half-term! Enjoy!