What the ladybird heard
10 Jun 2022
The children have been learning all about the clever ladybird in our story this week, as she foils the two bad men - Hefty Hugh and Lanky Len!
We have enjoyed listening to all the ladybird stories about saving the fine prize cow, finding the Snuggly Snerd and saving the mermaid's hair. What a clever little ladybird!
The children have made ladybirds from clay and had lots of fun poking holes in the clay for her spots, then decorating them with red and black paint and sparkly glitter. They made prints using the potato masher to make ladybird shapes and added legs, googly eyes and more glitter to create their own ladybirds.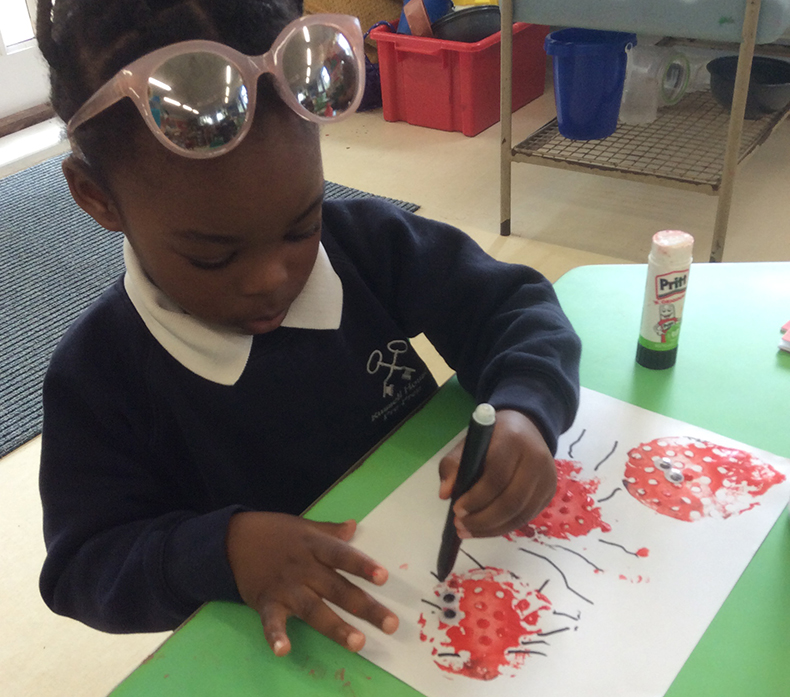 Ladybirds and other mini beasts were hidden in the sand, pebbles and shells and the children looked at the similarities and differences between them all in preparation for our trip to High Elms on Friday.
The children's favourite characters were drawn in their Special Books, with the vehicle-enthusiast children spotting the cars and buses on the first page to draw in their books!
We went on a scavenger hunt to look for lots of different natural objects and the children noticed quite a few to tick off their sheets before we had left the Nursery garden! We had great fun looking for spiderwebs at Amber's House and the children were very patient looking for the birds, which we could hear but not see.
Finally, we have been busy learning our races for Sports Day, with the children showing great understanding of the races and fantastic teamwork - we can't wait to show you all our races.
We are all looking forward to our trip to High Elms and I'm sure there will be many fabulous photos for the bulletin next week.