Butterflies and other wild things
10 Jun 2022
Our topics this week in Robins were Butterflies and Wildlife.
The children have certainly been busy bees this week. We had a special delivery from Postman Pat and the Robins were very excited to find out what was inside our envelope. Inside were stickers and activity cards from The Wildlife Trust. We have had lots of fun taking part in our 30 Days Wild activities so far. We started the week, making some lovely bread and butter bunny sandwiches.
Mr Phil helped us find some logs for our beetle box. First, we placed bark and stones on the bottom and then we collected some leaves to place on top. Lastly, we carefully transferred the big logs into the box and made sure the box was nice and snug for our new friends.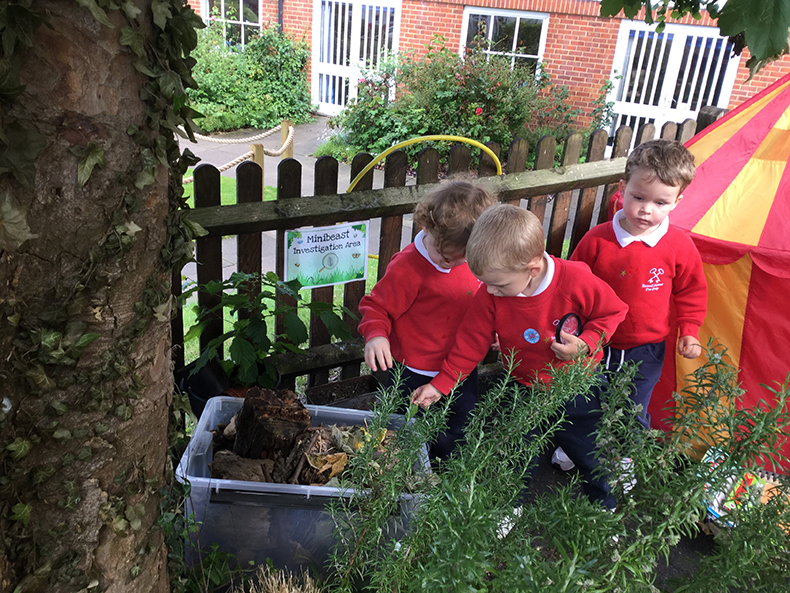 The Robins enjoyed taking part in our new mindfulness activity and they all did superb listening. They heard lots of different bird sounds, along with some tranquil music which was nice and relaxing.
As part of our 'Wildlife Trust' activities, we enjoyed a lovely picnic in the Outdoor Classroom. We also heard the chickens talking to us which was funny, so we also visited them to give them some tasty treats. Afterwards, the children made their way to the school field and looked for a variety of objects using their magnifying glasses. As a surprise, we packed some bubbles in our bag and the Robins tried very hard to catch the bubbles. It was quite windy, so the bubbles blew in different directions.
We have certainly been very active this week and the children enjoyed taking in our Big Wild Scavenger Hunt. The Robins identified lots of sounds and textures. We felt the trees and there were some great describing words when feeling the tree bark. Such as: rough, spooky, bumpy and bobbly.
The children have been very interested in numbers recently, so we combined water play with numbers. Lots of fun was had with the water spray bottles and our number targets. One Robin scored 5 points which was great!