Welcome to the jungle
10 Jun 2022
Welcome back, everyone! It has been lovely to hear about the wonderful activities the children have been doing over the half-term including holidays, trips to Hever Castle and Jubilee celebrations. An extremely busy week back in the classroom.
There has been a lot of discussion within the class and Transition have worked very hard completing their writing for the week. The level of determination and perseverance from all the children this week was very impressive, so well done.
For our new topic we will be looking into life in the jungle. We have made a start on creating our own jungle animals. Using orange tissue paper and black strips, we are making our very own tigers! We had lots of discussions about what tigers like to eat and where they sleep.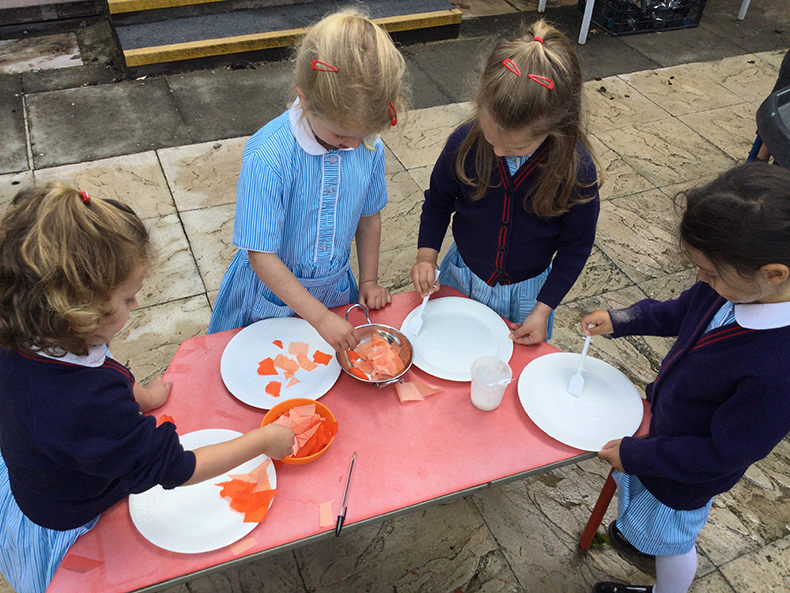 Although the paddock is not quite a jungle, it is the closest we will get in Otford. We decided to go on a listening walk. Prepared with our clipboards and pencils, we set off. We had various sounds we needed to listen for on our checklist. It was important that we all stayed very quiet, otherwise we would not be able to hear. Transition did a fantastic job at fine-tuning their ears to listen for very distinctive sounds. We used our other senses too, however we could not quite describe what the air tastes like.
Glorious, green, grass. Transition looked at the letter sound 'g' this week. We came up with many words; Grandpa, gorilla, grass, goat and grapes! To strengthen our fine motor skills we made pasta necklaces! We also looked at how we can measure and compare different sized objects including caterpillars and unifix cubes.