Strawberries and sports
24 Jun 2022
Our topics this week in Robins were Stonepitts Farm, Sports Day and Insect Week.
Well, the Robins have certainly had a very busy but fun week. We started the week with our trip to Stonepitts Farm to pick strawberries. The weather was just right and not too hot. Jackie spoke to the group about how to pick strawberries and we were impressed with how much information the children remembered when it was time to head to the strawberry field. We picked some extra strawberries to enjoy with our snack and the children said they were very yummy!
The Robins have been super chefs this week as they took part in cooking activities. We made strawberry jam, followed by caramel and apple scones. Of course, it would not be a real cream tea without cream and the children were surprised when we revealed our special treat…squirty cream! Our scones were delicious and they were enjoyed by all, including Mrs Burness, Mrs Irvine and Mr McCarthy. Mr McCarthy was very impressed with our homemade jam and scones.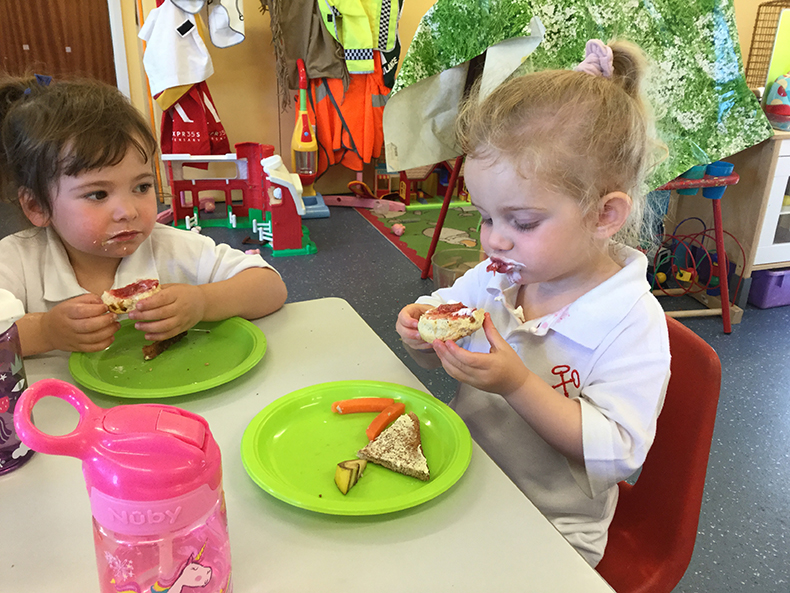 On Tuesday it was Sports Day and the children did a fantastic job whilst trying very hard in their races. Afterwards, we enjoyed our Teddy Bears' Picnic with our favourite teddies. It was lovely to see all the families together, socialising. As a special treat, the children enjoyed a rocket lolly which cooled them down after all the excitement.
We had lots of fun looking for minibeasts in our front garden and we found ants and woodlice in our bug box. It is lovely to see so many insects exploring their new home. The Robins learned some new words this week and they had lots of fun covering the minibeast pictures on our playdough mats.
Our Robins enjoyed meeting some new friends who will be joining us in September. They were kind and remembered to share their toys.
We finished the week with cutting activities. The children enjoyed using a variety of stickers which were all different shapes and sizes. It was wonderful to see the children persevere as they carefully cut around the pictures from a magazine.