A picnic under the sea
01 Jul 2022
Our topic this week in Robins was Under the Sea.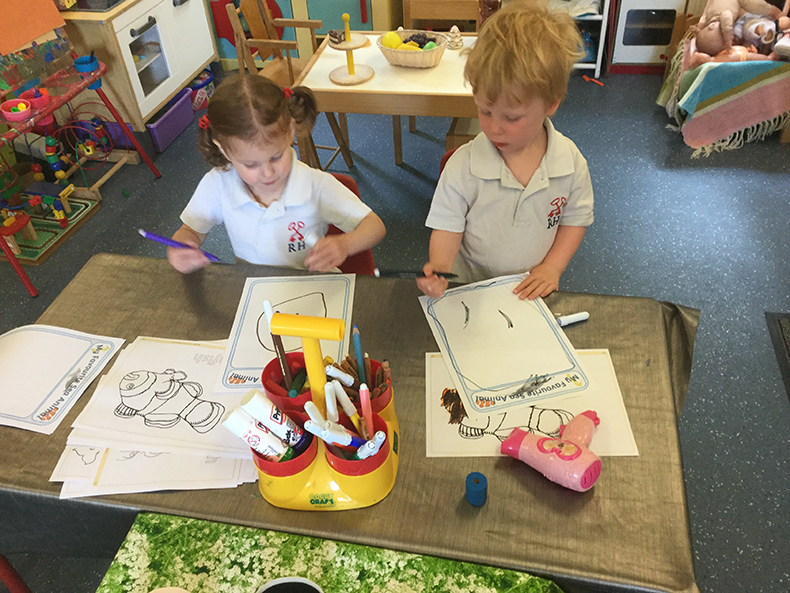 The Robins have thoroughly enjoyed exploring a variety of sea animals. There were lots of colouring sheets to choose from and some children created their own pictures, using the many resources on offer.
Lots of imaginary play supported our topic. Some of our Robins enjoyed a ride in a submarine and visited the bottom of the ocean. When we found the right place to stop, we had a walk around on the ocean floor. Unfortunately, there was a huge shark, so we jumped back into the submarine and made our way back to class. It was great to see the children using their imaginations and they also used props to support their play. One Robin had a fantastic idea of using a colander for the steering wheel.
The Robins were excited when I mentioned the word picnic. We packed our bag and off we went to the Outdoor Classroom. There was a yummy selection of fruit, and bread and butter sandwiches. The children saved some of their apples for the cheeky chickens. They were very pleased with their snack. Afterwards, we looked in the pond and noticed lots of pond skaters on the lily pads.
Continuing with our topic, we made sea animals out of ModelAir. The Robins looked at the sea animal toys and chose which one to make. Finally, googly eyes were added to their fantastic models.
It was great to see the Robins embracing our 30 Days Wild activities. They made some binoculars to look for birds and minibeasts in the garden.
We finished the week with a fun scrimbling session, dancing and mark-making to Under the Sea from The Little Mermaid. The Robins enjoyed wiggling and moving to music.
This will be our last bulletin for the summer term. We hope you all have a lovely break and I look forward to welcoming you back for an exciting autumn term.
Summer Art Exhibition: A reminder that this afternoon is the last day to view the exhibition in the Art Room. Russell House parents and their family members are invited to attend the Summer Art Exhibition today, 1st July from 4.30pm until 6pm.