The sea and the sand
01 Jul 2022
What a wonderful week in Nursery as the children have been exploring all about the sea creatures which live in the rock pools as well as all things about the seaside.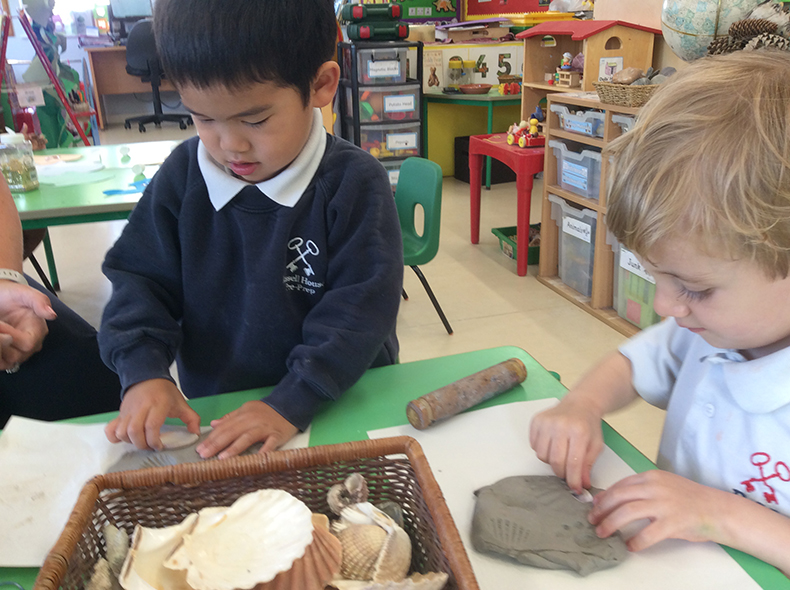 They explored different shells and we talked about what used to live inside the shells. The children loved listening to the sea! The children used the shells to make patterns in clay and these were then painted in pearlised paints to represent the beautiful colours of the seaside.
A rockpool was created in the garden using shells, pebbles, gravel and lots of sea life creatures and with lots of boats bobbing along on the water. The children then made ocean waves using foam, shower gel and shampoo whilst exploring the smells and singing about the whooshing waves like in our song for the Pre-Prep Celebrations next week. Quite a few of the children will have come home smelling like they had had a bath at Nursery!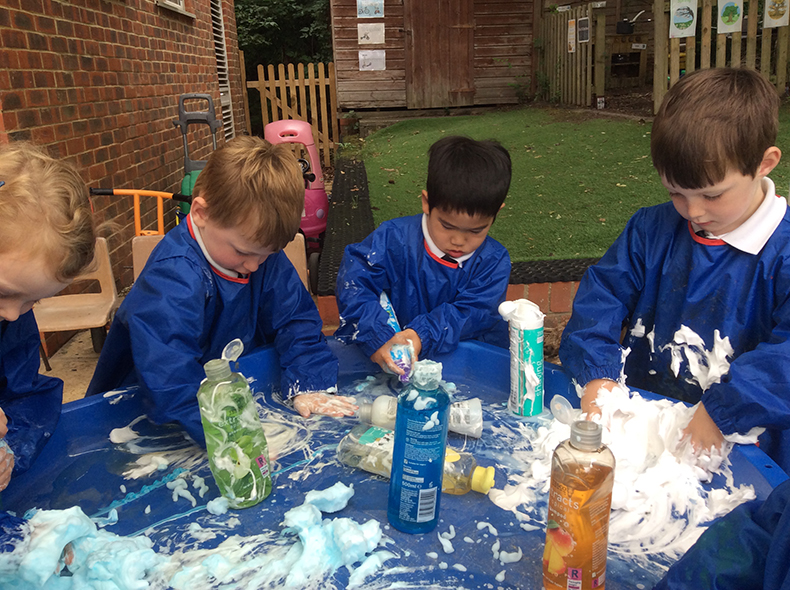 Water ramps were made for the boats using the gutters to pour water behind the boats to see which ones reached the sea first - lots of soggy wet fun!
The children were busy making a seaside collage using scissors to cut around the things we find at the beach - the ice cream van was voted the best picture, of course! Sandpaper starfish were decorated with sticky glue and glitter to make sparkling starfish from the rockpool and fish were decorated with gems and sparkly collage to create rainbow fish.
Our resident gardener has been busy looking after our flowers and beans by carefully watering them with the hosepipe - don't they look wonderful! And Mr Phil kindly filled our sandpit with lots of new sand, so we had lots of fun making a huge mountain of sand!
Finally we have been busy learning our songs for next week and we hope you have heard the children singing at home too. We are looking forward to seeing you for our Pre-Prep Celebration on Wednesday.
As this is our final bulletin for the school year, myself and Mrs Sayers would like to say how much fun we have had with your children over the last few months and we wish our leavers a very happy start in Transition. We look forward to seeing everyone else in September. Have a wonderful family summer.
Summer Art Exhibition: A reminder that this afternoon is the last day to view the exhibition in the Art Room. Russell House parents and their family members are invited to attend the Summer Art Exhibition today, 1st July from 4.30pm until 6pm.