Autumn apple cakes
16 Sep 2022
Our topic this week in Robins was autumn. The children have certainly been very active and busy.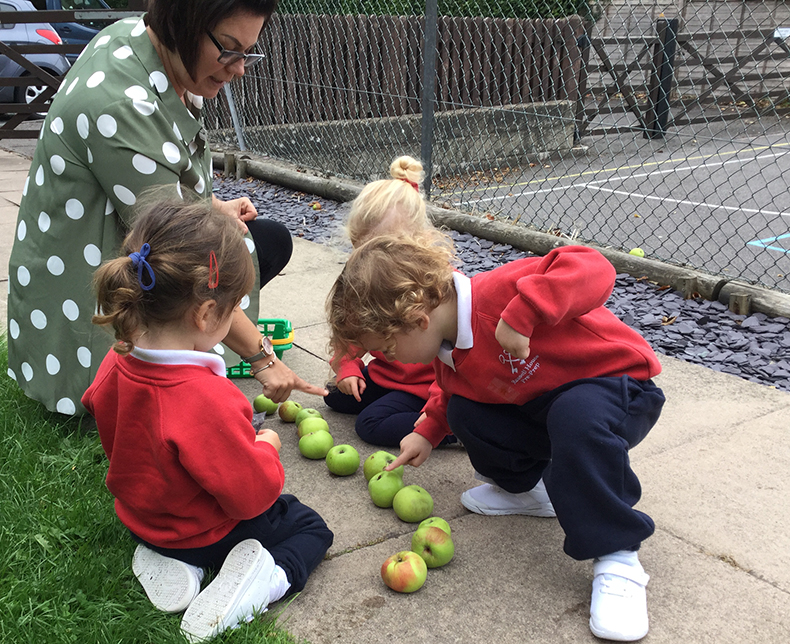 We started the week with a nice walk around the school grounds to collect apples for our cooking activity. We made yummy autumn spiced apple cake. The children were able to describe the ingredients and count the apples. The best part was mixing all the ingredients together. The Robins used their super strong muscles to make sure everything was combined and ready to be poured into the dish. We like to share our culinary creations, so we delivered some cake to Mrs Tickner, Mrs Parker and of course, Mr McCarthy. Everyone was delighted with our super baking and they enjoyed the cake with a nice cup of tea.
The children have thoroughly enjoyed using the CTOUCH board to draw. It was great to see the children taking turns and guessing what their friends had drawn. There were dinosaurs, hedgehogs and hats! Continuing with our topic, we visited the sheep and on our way, we listened to all the different sounds of nature. Our Robins are super impressed with the newly updated self-registration board and they like identifying different types of birds. We also refilled our bird feeders and it was nice to see a blue tit land and eat the seed.
There was a special treat on Thursday. We enjoyed a yummy picnic and hot chocolate in the Outdoor Classroom. It was fun when the trains went past and one of Robins thought it was Percy the green train.
We ended the week with an autumn treasure walk to the Paddock. The Robins collected a variety of objects which were very colourful. The children enjoyed using their treasures to make beautiful pictures.