Looking for Leaf Man
23 Sep 2022
Our topic this week in Robins was Leaf Man. The children have enjoyed reading about this autumnal classic by Lois Ehlert.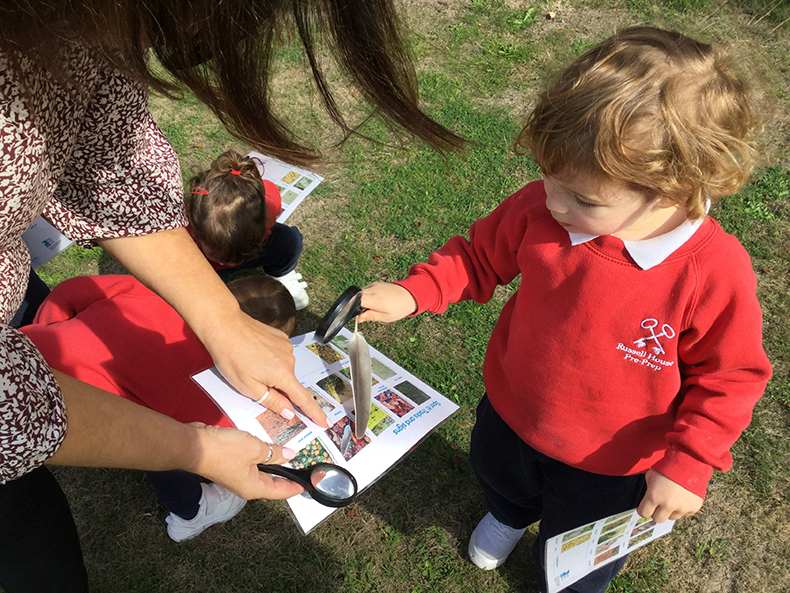 We started the week with a nice walk around the school grounds, looking for a variety of leaves. On our walk, we found lots of different coloured treasures which we popped inside our nature basket. Continuing with our topic, the children used the leaves and pine cones to make prints in the modelling clay. The models looked super colourful and very creative.
The Robins have thoroughly enjoyed using the CTOUCH board. They liked counting the objects and pressing the number to see if they were correct. Their favourite activity is to draw, using the special pen and they are independent with changing colour.
As part of our topic, we also watched Leaf Man on the big screen. I was very impressed with how much they remembered and the Robins were also able to recall the different vegetables from the story.
This week in cooking, we made yummy custard biscuits and scrumptious chocolate brownies. The children were able to identify the ingredients and they made links to home. One Robin thought the oil looked like honey and she told us that she likes honey on toast for breakfast!!
We enjoyed a walk to The Farm to see the cheeky chickens. As a treat, we fed them some yummy apple which they enjoyed. The Robins laughed when the chickens pecked the spoon! Afterwards, we looked in the pond and noticed lots of pond snails.
In music, the children are working very hard on their Harvest songs and they are remembering all the actions. Well done, Robins.
We finished the week with a fun PE lesson in the Russell Hall, followed by a trek on the field to look for things on our identification sheets. One Robin found a feather and matched it to the picture. On the way back, we walked through the woods to see if we could find a Leaf Man. Perhaps you might spot your own Leaf Man over the weekend. He could be drifting east or heading west…