Shapes, sounds and buddies
23 Sep 2022
Another busy week for the children! This week we have not only been discussing the properties of simple shapes and their differences, but also using 2D shapes to make mobiles (the ones you hang from the ceiling which we made clear to the children to avoid any disappointment).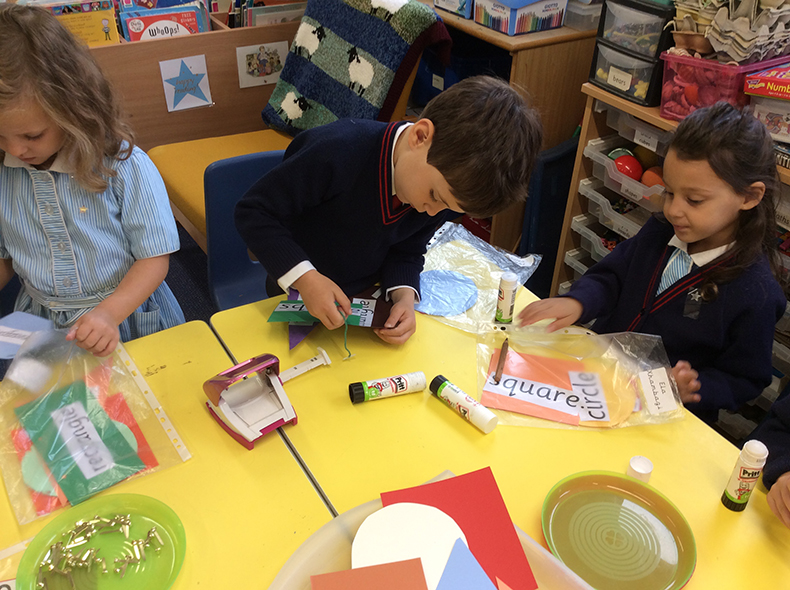 The task involved a lot of listening and independent thinking skills. Each child had to gather five different shapes in five different colours and then glue the correct name on each shape. They were then required to use five different ways of joining all the shapes together and adding a ribbon at the top to hang them up. They were delighted with their finished mobiles which are now hanging up in the classroom and they all became very excited when a breeze made their shapes dance. A lot of thinking and organisational skills came into play whilst also reinforcing their knowledge of the properties of 2D shapes.
The children continue to practise their sounds and as a group we are timing how long it takes us to say all the single letter sounds when the grapheme is held up. We have managed to go from 39 seconds, near the start of term, to 26 seconds yesterday which I think might be impossible to beat, but we will see. The children's blending of letter sounds is improving as they press each button to make the sound and then slide the sounds together to say the word.
The children have been working hard on their handwriting, both at home and at school. As part of learning about letter formation, size and placement on the line, they matched different letters to both Harriet the Cow, who starts tall letters, and Georgia the Pig, who starts round letters.
Finally, last Friday was an exciting day for the children when they met their buddies from Form 7. Although the children know they can always turn to an older child for help or a kind word of encouragement, they were formally introduced to their own special person who will be their particular buddy for the rest of the year, as they get used to playing out on the paddock after lunch. They shook hands and got to know a bit about each other as they sat down together. It seems like only yesterday that these children were in Form 1 themselves. Time really does fly and I can promise that before you know it, it will be your children shaking hands and making friends with our little ones!