Confidence and independence
07 Oct 2022
The children have tackled all tasks with great confidence this week.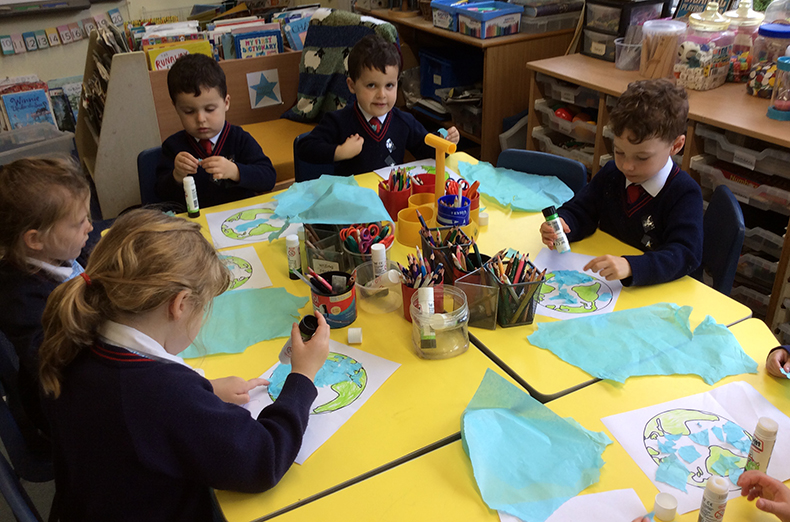 This week we have been talking, drawing and writing about the medical profession, who amongst others have included children's experiences of doctors, nurses, opticians and dentists. Also, in our role play area, the children have been writing prescriptions and practising their bandaging skills. The children have also made little books all about morning routines which include making sure teeth are brushed and that we are nice and clean ready for a day at school. Very different by the time they have had a fun filled day and are ready to go home!
Environmental awareness is always part of our daily routines in school such as recycling paper or reusing plastic containers. During Environmental Awareness Week at school, we have been reading books and talking specifically about how we can preserve the planet earth. Part of this involved drawing around their hands and then placing a globe they had decorated safely in their cut-out hands. Our children hold the future of the planet in their hands and I am sure they tell (nag!) you at home to switch off lights, turn off taps and recycle as much as possible.
Continuing our work on handwriting, the children have been sorting Zac letters and all the letters that Pippa helps with. Please do ask your children to explain about all the animal characters that help them with their letter formation.
In maths, we have been investigating the concept of more and less by using a variety of resources (including confers) to compare quantities as well as understand or reinforce the concept of one/two etc more or less.
Working in the concrete is always the way for children to really understand how numbers work. The children also loved making puppets using the Biff and Chip book Six in a Bed to reinforce their learning about one more and one less. Their growing confidence and independence was quite clear to see when I demonstrated the process and then gave them a series of instructions of how to make their puppets. They went on to organise their resources and basically just got on with it. They then applied their understanding by using their imagination to make up number stories about the different characters getting in and out of bed for various reasons, which is something I imagine you are all very familiar with as part of your children's bedtime routines!
You will notice that many of our activities involve cutting, sticking, sorting, sequencing, finding resources and most importantly; organising. All these skills are vital tools which the children will use throughout not only Russell House, but their lives. It increases thinking skills as well as confidence as they manage to achieve each task and this vitally builds their independence.