Autumn is all around us
21 Oct 2022
In true Transition style, we ended the half-term with a week of busy days and super activities. We have been continuing with our theme of autumn.
Day by day, the children notice new changes in their environment and are always keen to inform us of this. Despite the rain, we have spent lots of our time outside to collect autumnal leaves and other natural materials. We observed the range of beautiful colours and described what we could see. During our walk we visited the sheep who live at the back of our field. We had a very special treat as the farmer was able to share lots of facts with us about the sheep.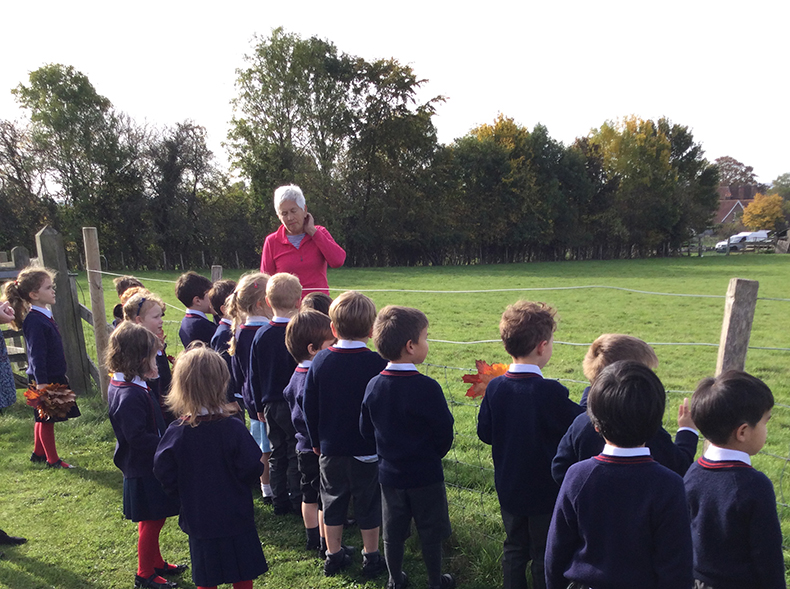 Using autumnal coloured tissue paper, we decorated glass jars to make candleholders. The children enjoyed using PVA glue to help stick the paper to the jars. They demonstrated great perseverance and determination to ensure the materials were stuck in the right place. We then added tealights, ready for them to be sent home.
Our letter sound this week was v. Mrs Nelson and I were very impressed with suggestions given from the class; vulture, vote, valley and volcano! In Transition, we often hold votes with regard to which story we are reading or what activity we should do next. We all display a great understanding of how voting works and how to make it fair.
We all participated in some creative writing activities this week to consolidate our new knowledge about autumn. After our trip to The Hub to look at a new range of books, we had a carpet time discussion all about hibernation. Within our play, we used toy animals and our imagination to demonstrate all we know about hibernation.
As the first half of the autumn term draws to a close, we are reminded of all the fantastic things we have accomplished. We hope you enjoyed the Pre-Prep coffee morning and were impressed by all we have achieved! Transition have all worked incredibly hard and gained new skills and knowledge in the process too. We hope you all have a super half-term break and enjoy all the fun things this season has to offer.