Bright leaves and patterns
21 Oct 2022
It is amazing how quickly this first half-term has gone and I feel that the children really have achieved a huge amount. I am pleased to say they have made great progress not just academically, but also in their independence and self-confidence. All this week they have been looking forward to the Pre-Prep Coffee morning when they could show everyone just a few of the wonderful things they have made and also talk about some of the fun activities that they have experienced.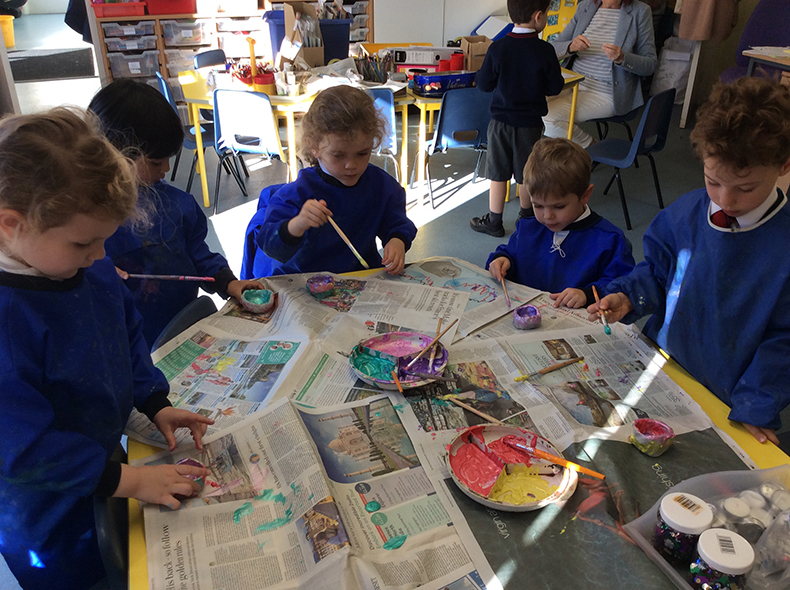 As you can see from the photographs, this week saw the children putting the final touches to their divas by painting and decorating them with everything shiny that they could find. They can't wait to bring them home and light their tealight to celebrate Diwali. They have also been colouring Rangoli patterns and have successfully made them symmetrical. As part of the Diwali celebrations in school, they performed in a play at our assembly all about Rama and Sita and the first Diwali. The applause from all the children and teachers made them feel very proud indeed.
As Halloween celebrations will be happening during half-term, we have been making some spooky spider hats to wear, which also gave the children the chance to reinforce the concept of symmetry as well as learning to concertina paper which is a great way to develop fine motor skills. It also involved a lot of instructions and the results are spectacular. It certainly encouraged a lot of fierce spider faces!
Finally I am including a photograph from last Friday when the children were beside themselves with excitement to dress up in a Halloween costume and then zoom off to the celebrations. They tried to put on very scary faces! Have a great half-term!