We remember them
11 Nov 2022
The word of the week in Form 1 is remember and the children have been relating it to several subjects including; drawing and writing about all the wonderful things they have been getting up to in the half-term holidays, the fun of the fireworks, chanting the rhyme, Remember, Remember the 5th November and, of course, Remembrance Day.
The children have made some beautiful poppies and we have discussed why it is good to remember. They have also been taking their money to the office and choosing a poppy to buy. When morning breaktime finished on Friday, Form 1 joined with the rest of the Pre-Prep on the front court to observe a one minute silence (quite a long time for little ones) and think about all those brave men and women who helped to protect us and our families in the past and in the present. We took the opportunity to do the same as I took a photograph of the children with quite sombre faces whilst they proudly held the poppies that they had made.
As the days grow shorter and the rain seems to have finally stopped, the children have been enjoying being outside and using nature around them to experiment and learn. Quite by chance a piece of paper dropped onto the ground and was stepped on by mistake with a wet shoe. This led to everyone trying to replicate the footprint that was left. Patterns were created and compared with a lot of experimentation and discussion as to why the wet footprint began to fade in the gorgeous autumn sun.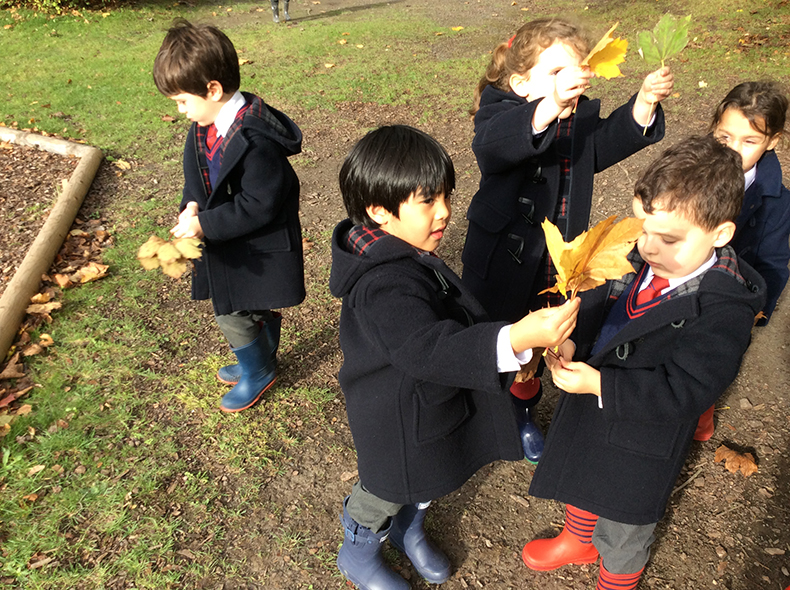 The children have also been enjoying the beautiful colours of autumn. Making the most of the sudden glorious weather, we went for an autumn scavenger hunt and the children gathered not only leaves but a windfall of apples during a wonderful sunny morning this week. The colours were stunning and the apples were enormous. They certainly enjoyed leaping through the leaves as well as collecting them to use for printing. They all tried to catch a leaf as it fell, but even though the winds were high the leaves stubbornly clung to the trees. Aren't we all so lucky to spend our days learning with our friends in such a safe and beautiful environment?