Ready, steady, go for road safety
18 Nov 2022
Our topics this week were Kindness and Road Safety. The Robins thoroughly enjoyed our variety of activities and so have we.
We started the week with a discussion about staying safe and how we should cross roads. At the beginning of the week we received our fun colouring pages as part of our Action Pack by Brake. We spoke about different types of crossings and the colours of the lights on a puffin crossing.
As an extension, the Robins enjoyed sorting red, orange and green buttons onto the corresponding spot. Our fun did not stop there, we also made ready, steady, go fruity kebabs. Mrs Beary and I were very impressed with how the children persevered, threading their fruit pieces onto the skewers. We did not want to waste anything, so we used the strawberry tops to cover the spikey end.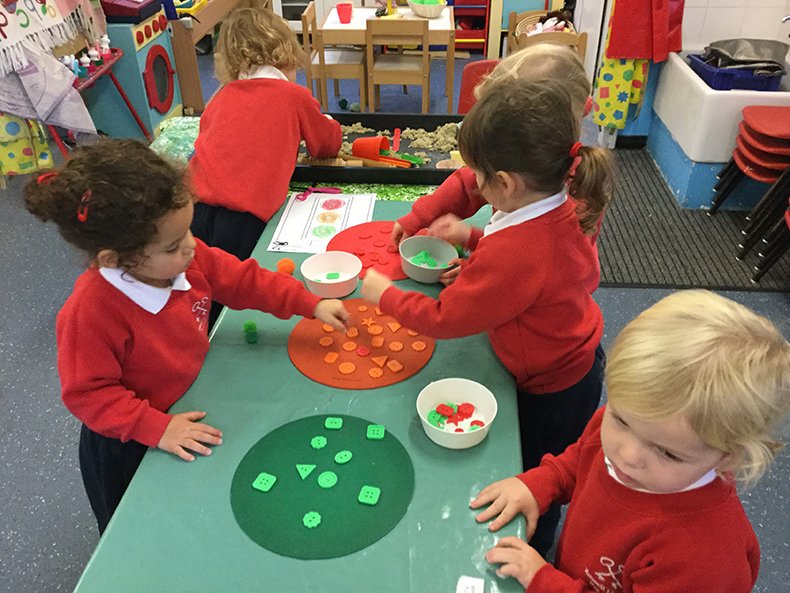 Continuing with this topic, we played the Kim's memory game and the Robins did a great job remembering the missing items which disappeared from the tray.
It was also Kindness Week and we brainstormed lots of ideas as to how we could be a nice friend. We thought about the effects of kindness and how it makes you feel. Then afterwards we spoke about how it makes us feel when people are unkind. After our discussion, we added our ideas to the kindness tree quote by Aesop. This is now on view for all the children to see and it will serve as a reminder to remember to do something kind, however small. Continuing with the kindness theme, we played a kind/ unkind game and each Robin sorted a picture card into the correct group. Well done, Robins!
There was lots of excitement this week when I mentioned the words: banana cake. This recipe is definitely the Robins' favourite and we also had a little taste for our snack. We hope you managed to have a little taste, too.