Dinosaurs and Christmas trees
02 Dec 2022
Our topic this week was Trees. However, we took a slightly different path as we followed the children's interests which consisted of dinosaurs and Christmas.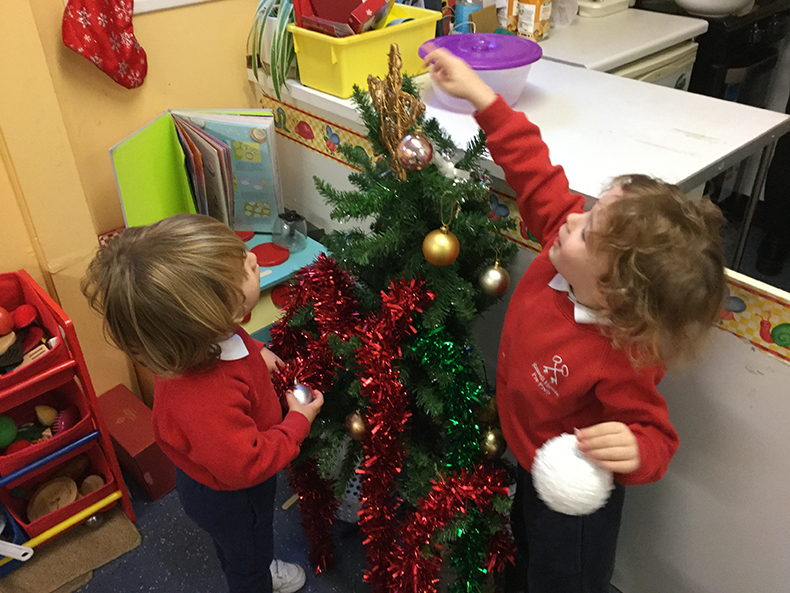 Last week, we received a letter from our Christmas elf all the way from the North Pole. The Robins were surprised on Tuesday as we received a special box. They tapped on top and out jumped our favourite Christmas friend, Elvis. We have certainly had a super busy week, playing festive games and singing songs. Their favourite game was Find the Christmas Baubles. Elvis is not a cheeky elf and he particularly likes to see children doing the right thing as this makes him happy. The children have enjoyed looking after him and I am sure he has liked his first week with us. Elvis had lots of fun with our Robins as they played in the rice sensory tray. He even brought some magic sparkles with him from his workshop. The Robins thoroughly enjoyed using them in their play and it made the rice tray extra Christmassy. The children have been super creative this week and it was lovely to see them decorate the tree together.
There was a very festive smell in class at the beginning of the week and the children used their senses to investigate. They managed to solve the mystery and discovered it was our cinnamon playdough. The Robins enjoyed the smell so much so as a treat we made cinnamon buns. I must say, they were scrumptious. The children took turns to roll the dough and then, very carefully, they added the filling on top by spreading the mixture with the back of a spoon. I then rolled the dough into a sausage shape before slicing. The Robins said the topping was very yummy and we enjoyed a cheeky taste after our afternoon snack.
Our Robins have such fantastic appetites and it is lovely to see them sit together during snack time and share their weekly news from our Home/ School Journals. Mrs Beary and I are very impressed with their fantastic manners and they always remember to say please and thank you.
It has certainly been a busy week and we continued meeting some of our new Robins who will join us in January. There was lots of festive fun on Wednesday and it was our turn to host the Pre-Prep assembly. The children enjoyed showing their stockings and spoke about what they would like for Christmas. We then had a Christmas quiz and each class answered a question. Our Robins then revealed the answer which was great fun! Then for the grand finale, we shook our bells to Jingle Bells and We Wish You a Merry Christmas.
During carpet time we spoke about our nativity advent calendar and how we will add a new picture each day. The Robins are excited to add more pictures next week and they are looking forward to their Christmas Concert and Party in the Russell Hall. Elvis will of course watch their performance and I am sure there will be a special seat for our Christmas friend.