Winter walks and wonders
20 Jan 2023
It seems the cold weather has arrived just in time for our new topic of winter!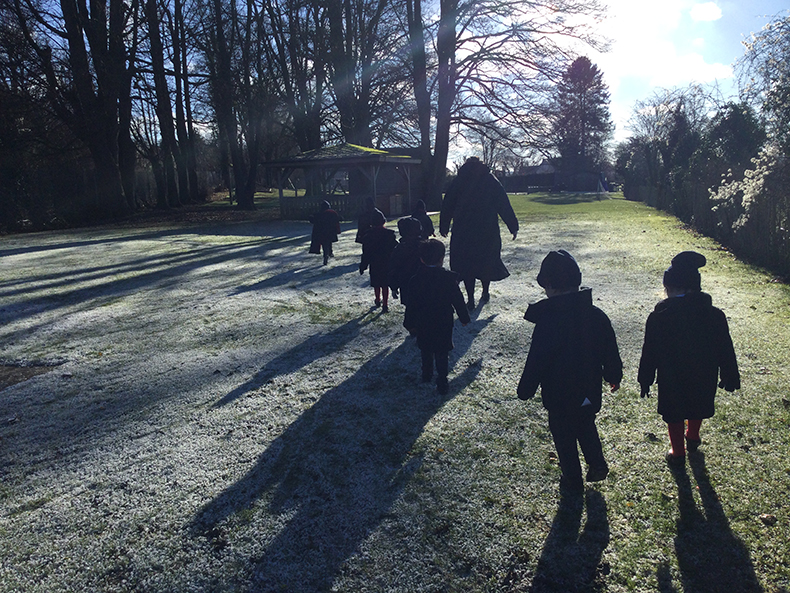 On Monday during circle time, we had a super discussion about the snow that we had noticed on our way to school.
With the temperatures plummeting this week, it was decided that we should go on a winter walk. As we walked around the paddock the children were quick to notice differences within our environment. These included frost on the trees and grass, puddles which had frozen and turned into ice and, of course, feeling cold! We pretended to be dragons as we could see our breath.
On our walk, we found a tree with a massive trunk. Miss Mitchem was not able to reach her arms around the trunk. We then tried with more children and in the end it took the whole class. We played the bean game to warm us up and everybody did a great job at following the instructions.
On Tuesday, we had a visit to The Hub. It was lovely for the children to explore the books and play circle time games. One of our favourites was using the number cards to identify the amount of objects. We all demonstrated our fantastic mathematical skills throughout the week during various activities. Some of us are even attempting to write numbers independently!
We have been very creative this week in Transition. During our circle time discussions we identified different types of clothing which are worn during the winter months. We all agreed that a pair of mittens are great at keeping us warm. We all decorated our own pair of mittens to add to our display board. It was discussed that it is likely to snow during winter. We all shared our excitement of the snow and all the fun that can be had. One of these activities was making snow angels. We decided to make some of our own snow angels using our arts and crafts. Each child decorated their own picture with cotton wool by carefully placing it around the edge of their picture. They look absolutely brilliant. Well done, Transition.
A huge focus of our week has been our Pre-Prep assembly, which we hosted. Our theme was Beating the January blues which we think was a super topic to start our new year off with. The children in Transition stood proudly in front of their friends and contributed to our discussions of what makes us feel sad? and what makes us happy? We also shared our new song I have feelings, which was sung beautifully!