Have you seen this bus?
03 Feb 2023
It has been a very exciting week in Form 1 as we started our Transport topic.
On Monday, we read our new book which is titled Naughty Bus and the children were delighted to discover that we had been given our very own Naughty Bus to look after! However, we soon discovered that our bus was just as naughty as the one in the story. The children were shocked to find a painty mess in the classroom on Tuesday, accompanied by some intriguing tracks leading off out of the building! The children decided we needed to let the rest of Russell House know about our runaway bus, so they set to work making posters and writing descriptions. Once everyone had made a poster, the children visited Mr McCarthy to explain what had happened and then put their posters up all around the school. The children had lots of fun visiting different areas of the school and explaining to everyone what had happened in Form 1!
We found more clues on Wednesday as photographs appeared of Naughty Bus having fun in various places around Russell House. The children made maps to show where he had been and plotted his route around the school, drawing the places they recognised from the photographs. They were all excellent detectives. The children were very pleased when the Nursery children visited Form 1 and brought with them… Naughty Bus! They had found him playing in their classroom, covered in green paint. He needed a bubble bath, but he was finally home.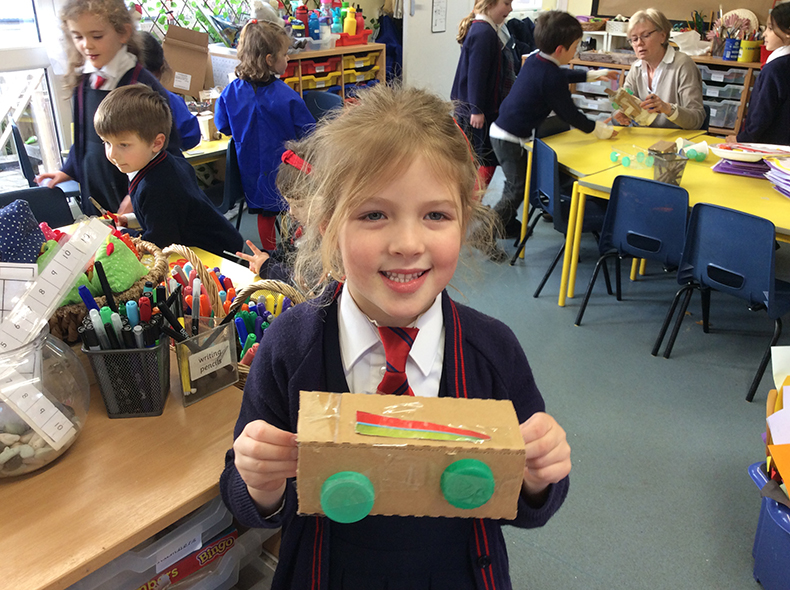 Form 1 have also had lots of fun making their own buses and vehicles using various recycling materials, linking with our Environmental Awareness Week. They made some fantastic models and it was wonderful to see how everyone approached the activity differently and shared their ideas with one another.
In maths, we have been thinking about adding and exploring number bonds to ten, through our Transport topic. Children have been playing bus-themed maths games, rolling dice and then adding the right amount of passengers to their paper buses and exploring that when we add, we get more. We have also thought about how many different ways we can fill our tens frame bus and used Numicon to help support our understanding.
I also must mention how much all the children are enjoying their swimming lessons, it is wonderful to see their confidence growing every week. They are all smiles as they learn to swim on their backs and put their faces in the water. Well done Form 1 on another great week of learning!