People who help us
26 May 2023
Our topic this week in Robins was People Who Help Us.
Wow…the Robins have certainly had a very busy week. At the beginning of the week it was nice to meet our new Robin that will join us after half term. All the children shared the resources which was nice to see. We then made our way to the Russell Hall for lots of dancing as part of the Danceathon. The children loved dancing to their favourite songs and there was even magic as the Robins summoned their ice powers for Let It Go.
Lots of fun was had on the field as we used our identification sheets to spot birds. We think we spotted a song thrush, but it was quite far away. On the way back, everyone enjoyed a yummy hot chocolate treat, amongst the beautiful blossom trees.
There was lots of conversation during our Talk for Learning. The Robins were able to describe the pictures and identify which occupation was on each card. Continuing with our topic, everyone had lots of fun dressing up in our topic outfits. Mr Warner kindly donated some hi-vis workwear so the Robins enjoyed being train drivers and rail staff.
A special visitor came to Robins on Tuesday and spoke to the children. Miss Davies showed the children how to bathe a baby and she also brought some special pieces of equipment with her. It was great to see how much the children gained from this experience, especially as one of our Robins is going to be a big sister soon.
Following on from our Environmental Awareness topic last week, I picked some rhubarb from my garden for our cooking activities. We had an interesting discussion about cooking the rhubarb stalks. The Robins learnt a new word this week, when I explained that the rhubarb leaves could not be eaten as they are poisonous. There were lots of strong muscles as everyone took a turn to mix all the ingredients together.
Fireman Sam and Postman Pat were also popular this week and we spoke about their roles and how they help people. We also received a special envelope in the post for our next topic. One of our Robins loved playing the role of a firefighter and he used his extinguisher to put out the fire.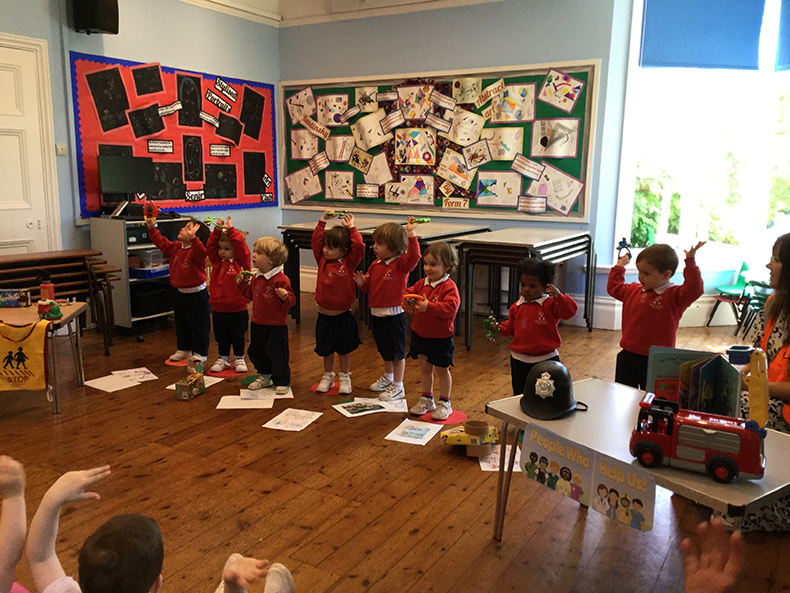 It was our turn to host this week's Pre-Prep assembly and I must say how well they did. The Robins were full of confidence and everyone showed something they had coloured or made. We also recapped this week's activities and spoke about our special visit from Miss Davies.
The children finished the assembly with one of our favourite songs…The Wheels on the Bus.
There has also been lots of water play which kept the Robins nice and cool. It was great to see the children washing the babies and changing their nappies during free-play.
We finished the week with our Pre-Prep Coffee Morning. The children had lots of fun and they listened to all the instructions.
Have a lovely half-term break and we look forward to our 30 Days Wild and Child Safety Week topic on our return.