Fire engine fun
22 Sep 2023
This week in form 1 the children started the week by having their school photograph taken. The children all wore their uniforms with pride and checked their hair in the mirror before going to Russell Hall to meet the photographer. Everyone gave their best smiles and did a great job! The children have been continuing their topic People Who Help Us and have been focusing on Firefighters this week.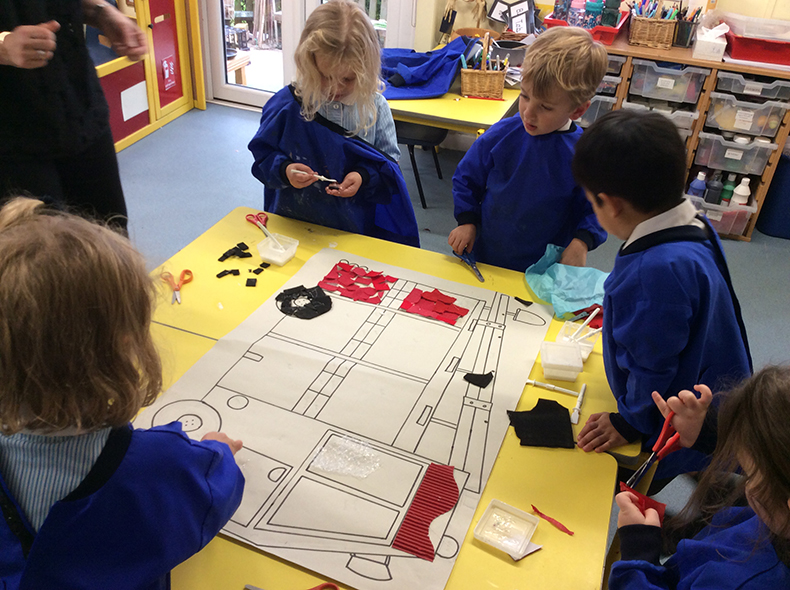 They have been watching videos all about firefighters, the various attributes a firefighter needs to have and the different types of emergencies they might be called to help with. The children were full of questions about how firefighters help others and have enjoyed learning all about this very important job. Our roleplay area turned into a fire station/ fire engine this week and lots of fun has been had dressing up, taking emergency calls and pretending to rush to help people in trouble.
In literacy, the children have been labelling fire engines and applying their phonic skills, listening for sounds in words and working hard on their letter formation. Using information books has also been lots of fun and the children have learnt how to identify the contents page and search for facts. Our daily phonic sessions have been a huge success and the children have loved playing phonic games, developing their listening skills as well as practising their handwriting and taking part in group reading activities. The children have responded brilliantly and are enjoying all these new challenges.
In maths, we have been continuing our work on numbers to 20, identifying the teen numbers and placing them in order. The children have enjoyed completing a number track activity, helping the fire engine make its way from 1 to 20 to help put out the fires! The children have also been building number lines using our large number tiles and practising jumping along, counting as they go.
There has been some great teamwork this week as the children worked together to complete a wonderful class collage of a fire engine using a range of different scraps of paper and fabric. Cutting the different coloured pieces to the correct size and carefully glueing them to the paper required the children to think about shape and space as well as develop their cutting and collaborative skills. Everyone enjoyed adding to the huge piece of art work resulting in a really fantastic Form 1 fire engine!
The children also had fun creating fire pictures using runny paint and straws. Using straws the children learnt how to blow the paint across the paper to create a really exciting effect. Some children glued sticks from the outside area to their picture or even painted firefighters running along to put out the fire - very creative indeed! Another challenge the children embraced this week was how to build a ladder for a firefighter. The children decided art straws were the best materials to use and joined them using sellotape and masking tape.
On Friday the Form 7 Buddies came to visit the children and spend some time in Form 1 getting to know everyone a little bit better. The children loved seeing their Buddies in their classroom and sharing snack time together. Afterwards the children had a special treat as their Buddies took them out to play after. For photos of this fun experience, see our Facebook Page.
Another really exciting and fun-filled week in Form 1!