We're going on a stick hunt
22 May 2019
Transition are bringing last week's woodland adventures back to life at school.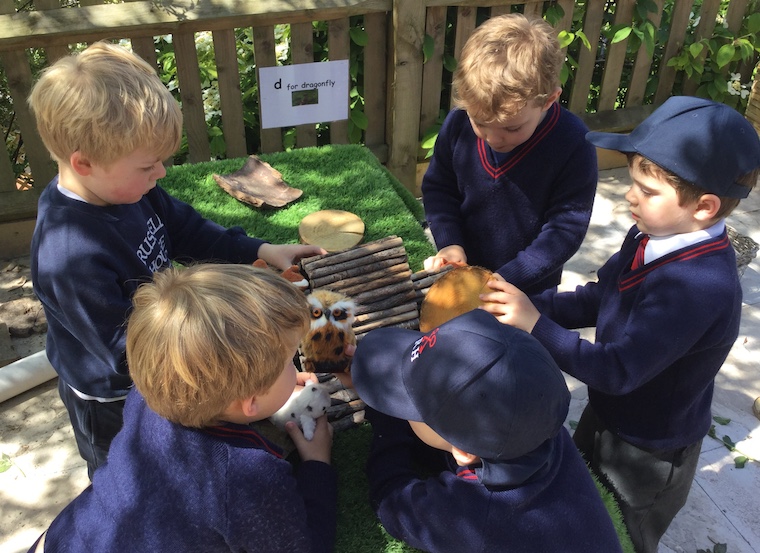 While our visit to Lullingstone is still fresh in our minds, we have enjoyed a week of stick collecting in Transition! Off to The Paddock we went, armed with a huge collecting basket, to see just how many differently sized sticks we could find. Once back in class, we used the sticks to create the initial of our name as well as a fabulous thank you card for Ranger Donna at Lullingstone (with wonderful self-portraits inside of all the children).
The children have also re-enacted their adventures in the woods by building homes for the woodland animals outside. The appearance of a magnificent stag beetle one morning provided lots of up-close interest and inspired the children to play with the minibeasts, positioning them under the logs, all perfectly coinciding with our letter of the week being 'u'! Some children went on to draw their own stag beetle and to even copy the word.
Little Red Riding Hood has appeared in our week too. We read the story and used the puppets when out in The Paddock, sitting closely together under the trees, so we really felt that we were in the woods. Everyone was relieved that Grandma and Little Red Riding Hood were safe at the end of the story!
This week has seen a big focus on 2D shapes, to fit in with our Builders' Yard role play area. The children have become architects, drawing their own plans of their homes, bedrooms and even cars, using rulers, tape measures, shapes and lots of mathematical language in the process.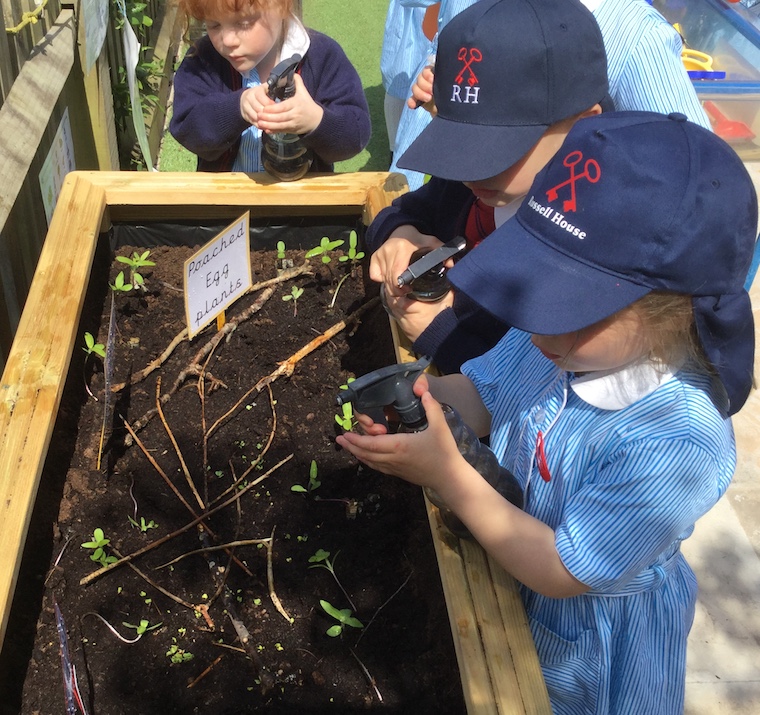 We have planted out our sunflowers that we grew a few weeks ago and we have sown radish seeds and poached egg plant seeds, which one of our parents kindly provided. Would you believe that in this beautifully warm weather, they have germinated already! Now the children are enjoying using the water sprays to care for their seedlings and plants, which has also provided good finger gym, through use of the trigger action.
Our PE lesson has seen the children practising their jumping skills, negotiating obstacles and carefully balancing beanbags on racquets.
On Wednesday we hosted Pre-Prep Assembly. I was extremely proud of the whole class, as everyone contributed to tell the story of our class trip to Lullingstone and we even demonstrated our Goldilocks and the Three Bears rhyme too.
I should like to congratulate the class on another busy and productive half term and to wish you all a very well-deserved rest over the break. Happy holidays Transition!