It's all about balance
28 Jun 2019
From handstands to quizzes, languages to the gala, Form 6 have had a great week.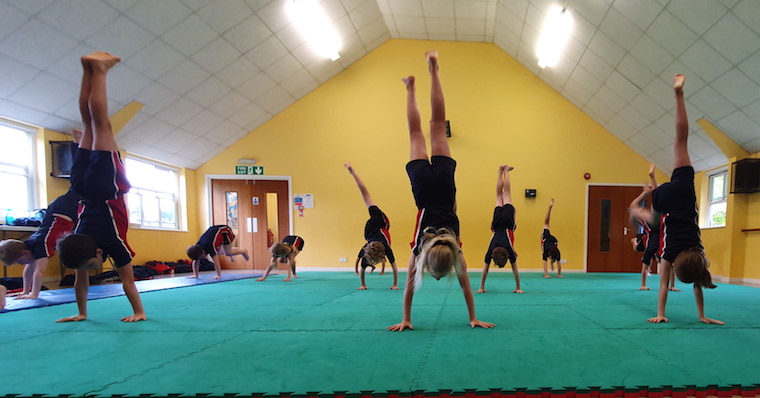 This Saturday is #HandstandDay 2019 and the children have been performing handstands in their gymnastics lessons. Even Mr McCarthy performed a handstand for the staff photo!
Well done to the Form 6 children who took part in the science assembly. It was wonderful to see the photos and videos of your trip to Horton Kirby. A huge congratulations to Alex and the rest of his General Knowledge Quiz Team, who took part in the national finals in London on Thursday, and finished an incredible 9th place out of 1200 teams! Good luck to all the children in the swimming gala on Friday and may the best house win!
Finally, this week, some children from Form 6 went to Kent College for a languages day. Here's Lucy's summary of the day:
On Wednesday 26th June, eight members from Form 6 went to a Language Day at Kent College. We were first split into groups and played games in German, French and Spanish. After that we did some translation in French. We had to translate a text about a girl and a wolf. Then we did a Bambara number sheet (Bambara is the national language of Mali). Once we had finished this activity, we had a snack and then learned some Chinese. This was really fun and my favourite activity. In Chinese, we learned how to say "hello", which is "ni how" and "thank you", which is "xie xie". After that we did some Spanish art. We learned about colours and body parts and then made collages with the body parts. We also labelled the body parts and said what colours they were. Once we finished the art we had lunch and then took part in some language sports. We did a racquet and ball race and played dodgeball. Sadly, after such a fun-filled day of activities, we then had to leave. Thank you Madame Boff and Mrs Tyler. What a great trip!