Match Reports: Football
06 Oct 2019
Catch up with the results from recent football matches.
U9 v Hilden Oaks: The U9 team played Hilden Oaks in a close match winning 2-1. Harry scored both our goals, whilst Oliver and Alfie had some great passes. The man of the match was Xander, because he made some fantastic saves. Without him we wouldn't have won.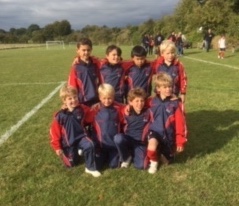 U8 vs Hilden Oaks: The U8 team all played very well, with Dexter and William F spectacular in goal. Arthur and Oliver were brilliant on the wing with some lovely crosses whilst Connor and William S made some outstanding interceptions in defence. Charlie scored the most goals for the team, but it was the all-round performance that stood out in an entertaining 5-4 win.
U8 v Solefield: The Form 4 boys played Solefield School in a football fixture at home. Dexter played really well in goal but came out for William F to replace him. Just before half-time Russell House were 3-0 up with all the goals being scored by Charlie. In the second half Russell House conceded a late goal which made the final score 3-1 to us. It was a great game which all the players and parents enjoyed thoroughly! Every player played their part in a fantastic win for Russell House. After the game we enjoyed a lovely match tea! We can't wait until the next match!
U11B Triangular: Russell House B team took part in two matches at St Michael's with Yardley Court and St Michael's. In the first match we played St Michael's, who won 2-0. We had a couple of good chances but were unable to score. Our passing was good in the first half and we didn't let any goals through. During the second half, St Michael's scored two goals, but after they had scored, we played very well. In the second match we played Yardley Court and won 2-1. Both goals were scored by Easher - the second was an amazing corner kick, bending in at the far post. The second match was a lot better than the first. Our passing and getting into space was a lot better and we started to call more, making a big improvement on the first match. The team worked better and concentrated more.