Hibernating hedgehogs
10 Oct 2019
Transition have been learning about hedgehogs this week.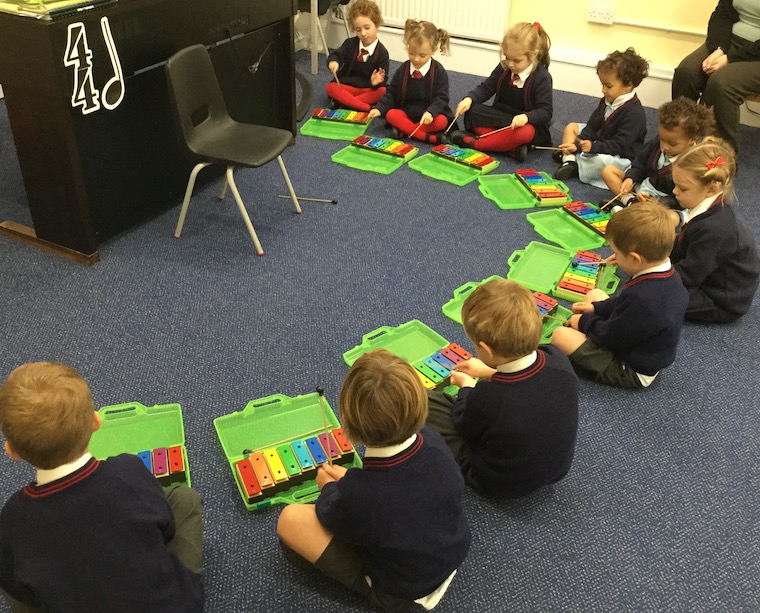 Learning about hibernating hedgehogs has had an unexpected effect in Transition this week, when the whole class turned into hibernating hedgehogs on the carpet!
Mrs Nelson and I were tempted to cover the children with crunchy leaves and leave them until the spring, but of course, there has just been too much else going on in the classroom for that to happen!
We have enjoyed reading facts from a non-fiction book about hedgehogs and we have created our own prickly hedgehogs during a transient art activity, with the children selecting a range of resources with which to create the hedgehogs' 'spines'. We all now know what baby hedgehogs look like and we have practised making hedgehog sounds.
The children have been developing their hand-eye coordination and refining their abilities with the tongs, using them to pick up pine cones and conkers, which they then balanced on golf tees. Fingers and thumbs have been strengthened further by inserting tiny push pins into cork boards following leaf outlines. Also - to great delight - bubble wrap has been popped!
The mild autumn weather has been perfect for exploring the Paddock, armed with our collecting containers, hunting for autumnal items of interest. Beautiful leaves of every size and colour, feathers, twigs and flowers were all discovered with great excitement, and containers were filled. We shall be using these items in a lovely art activity to follow, so - as they say - 'Watch this space!'.
It was our turn, along with Nursery, to welcome Pre-Prep into Assembly this week, and show everyone some of the lovely work we have created this term so far. We decided to create a mainly seaside theme to remind everyone of summer holidays.
It was lovely to see all of Transition participate, confidently and proudly showing their octopuses, jelly fish, pebble and shell pictures and beautifully decorated snakes, not forgetting of course our incredible seasides in jars. The finale involved us inviting everyone to join in with our jellyfish rhyme, which concludes: Watch out for jelly fish, swimming in the sea!