Lest we forget
07 Nov 2019
Spaceships, stars and poppies have featured in Transition's activities this week.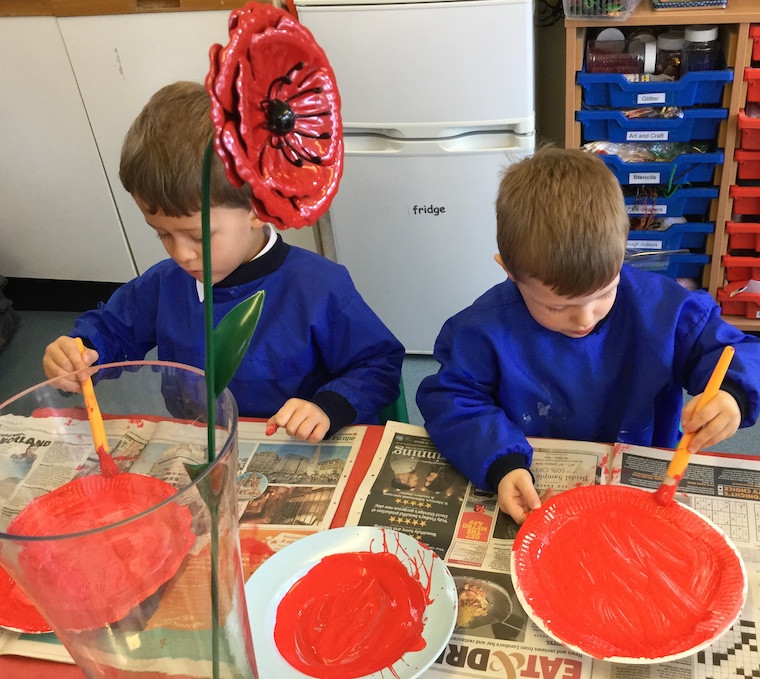 We have most certainly hit the ground running this week in Transition. The children have been very busy and are enjoying being back together again.
With gentle discussions taking place about why we wear poppies at this time of year, we started the week using our observational skills to paint our own poppies. Provided with just white card, red and black paint and a paintbrush and then looking at an array of poppies made from different materials, the children's results are striking in their simplicity and poignancy. We also created poppies using paper plates and buttons to add to our vibrant display in the classroom.
To complement our new theme of space and sky, our International Space Centre role-play area was launched, with astronauts donning their special space goggles to help them with their space observations. Accordingly, the Thunderbirds, rockets and planes have all been popular play resources, as have the torches. Our numbered stars have encouraged the children to revise number skills, counting out corresponding numbers of gemstones and placing the numbered stars in sequence.
Many of the children saw fireworks at the weekend and were most enthusiastic about creating their own firework pictures, albeit a little surprised when they realised they could paint with washing-up brushes, pan scourers and the like! Our mark-making has been inspired by copying firework and rocket patterns, using the whiteboards and marker pens, which has helped develop fine motor control, as has using strong wrists and fingers to press down the springy aliens.
I was most impressed by the class during Form 1's lovely Diwali assembly, held in Form 2 on Wednesday. Transition sat beautifully and listened attentively to the presentation and to Form 1's enactment of the story.
Well done on such an industrious week back, Transition!