Sparklers and sprinkles!
07 Nov 2019
Edible sparklers, fireworks and fun have all featured in the Robins this week.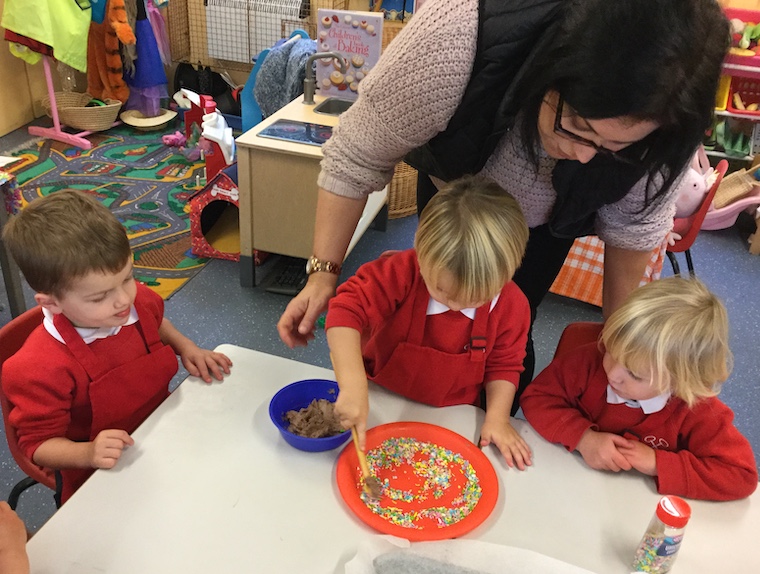 Welcome back and we hope you had a lovely break. Our Robins were very excited to share their half term news. It was lovely to see the excitement when we shared news during snack time. The Home/School Journals are such a great communication tool and it appears you all had a busy time.
Our topic this week was fireworks and the children thoroughly enjoyed making their own edible sparklers. It was quite a messy activity but the children did not mind as they had a cheeky taste of the chocolate buttercream. Their favourite part was adding unicorn sprinkles bringing a little bit of sparkle and magic. We also made fireworks pictures using brightly coloured paints and cardboard tubes.
This week was Form 1's assembly and it was very interesting to listen to the story of Diwali. The Form 1 children had made Diwali lamps, called divas. On Thursday, Mrs Warner bought some yummy crumpets for our afternoon snack. This was a lovely change and we watched with excitement as the butter melted.
We have enjoyed spending a lot of time outside, exploring the natural resources. The children used sticks, leaves, cones and stones in their play and benefit so much from coming up with imaginative ways to make wonderful creations. We finished the week with a lovely walk around the school grounds.