Travels in time and space
07 Nov 2019
Our bodies have been in school this week, but our minds have been miles away and years ago!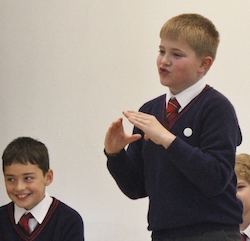 On Tuesday afternoon, we were treated to a visit from Sarah and Surya from United World Schools, who told Russell House all about the amazing school-building project in Nepal. They took part in a quiz (and Mr Dawes will be relieved to know that most of Form 7 knew that Everest is in Nepal!) and listened to Surya speaking about his childhood in Nepal and how school was for him. Most of our children couldn't believe that after doing several hours of chores at home, many rural Nepalese children have to walk 2-3 hours to school, often barefoot.
They then enjoyed drawing pictures of themselves, adding information about their favourite things, knowing that, come January, they will be on display at Ishma School for all of the new pupils to see. They also recorded a video message of welcome to the Ishma pupils.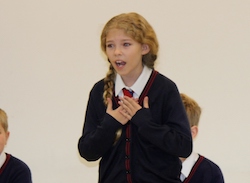 Back in class we then had a brilliant and enthusiastic discussion about fundraising ideas to help build the school. They ranged from sponsored events to donations for a range of activities and challenges. We look forward to putting some of these forward over the course of the year.
Travelling back in time, the pupils of Form 7 have been using the understanding they have gained from humanities lessons about life in WWI trenches to write empathetic poems in English. Their ability to put themselves in other people's shoes, imagining what the soldiers missed about home has been extremely touching and has brought a tear to the eye more than once.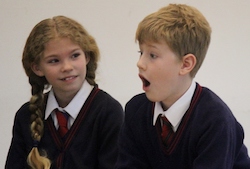 Huge congratulations to the winners of the internal final of the Poetry Live Competition. The Main School hugely enjoyed the performances of nine brilliant poems and it was a very difficult job for our guest judge, Ms Catherine Drummond of Caterham School to whittle it down to four.